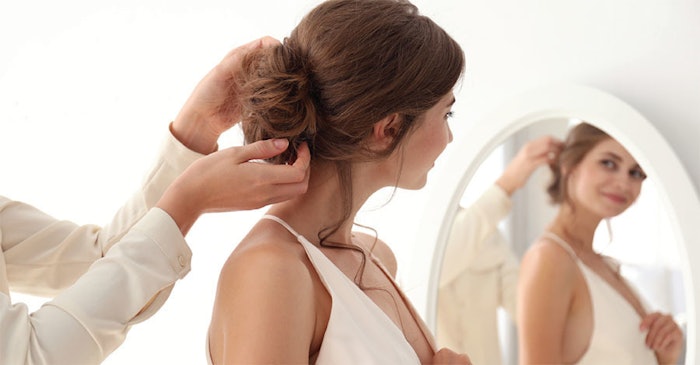 BLP Digital Magazine
Hair extraordinaire Casey Powell shares how to best collaborate with bridal clients, below. And if you want insight into unique and GORGEOUS styles for brides, check out the virtual session from Powell at our upcoming Beauty Go Pro Show event.
I've been doing hair—and sometimes makeup—for weddings for 17 years and the only thing that's certain is the uncertainty: You never know if you're going to walk into a calm atmosphere the day of the big event, or if you'll be entering an extremely stressful environment. The best thing to do? Be prepared. Here are my tips on collaborating with brides to keep your part in the wedding day running smoothly.
1. Set realistic expectations. [When you first meet with a bride], this is your opportunity to set the tone for your whole experience with her. Whether it's the timeline (know yourself and be honest about your timing); the need for those all-important extensions; what to expect from you; what you need to do to her hair to make it last; what you bring and what you need; and where you want to be on the wedding morning to be most effective.
2. Go through inspo pictures. Have your bride show you photos of styles she likes and doesn't like. That way, you can see which looks she truly prefers rather than relying on a verbal description, which leaves more room for misinterpretation.
3. Make sure you talk about the what the front of the hair looks like—not just the back—before beginning the style. Middle part? Side swoop? Up and back-swept? Pieces hanging? It's easy to make the back of the hair look beautiful, but the front is what the bride sees in the mirror. Also, suggest she come to the hair trial in a white shirt that has a similar neckline as the wedding dress; this can make a huge difference in envisioning the overall look.
4. Be a "beauty bestie." This is what I love about wedding mornings! True, the bride has all of her closest friends and family around, but you're going to be with her for a large part of the day. Stylists are often with the bride before the wedding planners and photographers even arrive, so we have a lot of influence over the bride's whole day from the beginning. Do your best to help her feel relaxed and confident.
5. Help heard cats! As stylists, we have a unique vantage point while doing hair to watch everything unfold in the room before us. Don't be afraid to speak up to keep the timeline on point and get everyone in your chair who needs to get their hair done. Before the big day, suggest that the bride has a talk with her bridesmaids about knowing the hairstyle they would like prior to them sitting in your chair, and how they should come with their hair prepared (I prefer hair dry and washed a day or two prior). You can suggest that the bride pick two or three styles to send to her wedding party as ideas.
6. Remember: The wedding is the bride's show and it doesn't start without her. If she is unsure about her hairstyle, go with her to the mirror. Watch her hands as she touches her hair, and then fix the issue. Reassure her and the rest of the wedding party that it's alright to ask to get their hair fixed or get a touch-up. Do your best to have everyone in your chair leave feeling beautiful.