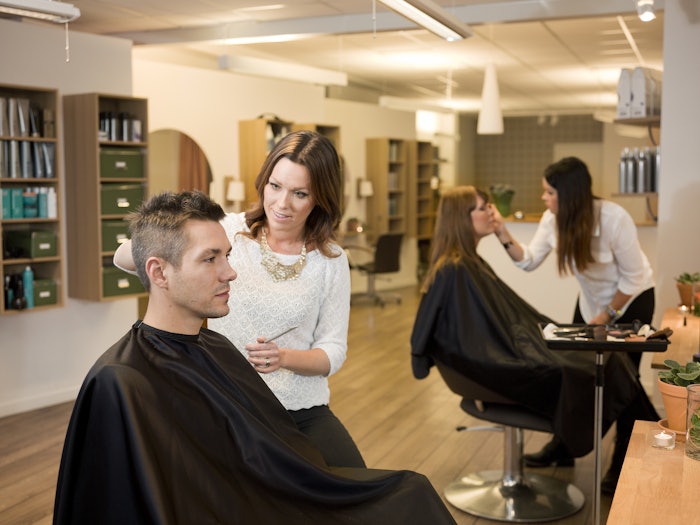 Celebrity stylists Jason Backe and Ted Gibson have launched Worth Up Alliance, an alliance that supports successful beauty entrepreneurs looking to take their careers to the next level, including opening up their own salon. (June 2021)
The career assistance comes in the form of networking opportunities, mentoring, start-up capital grants, entrepreneurship education and business coaching. Beauty Launchpad sat down with Backe to discuss the ins and outs of the duo's exciting new initiative.
Beauty Launchpad (BL): What inspired you to create Worth Up Alliance?
Jason Backe (JB): Last March [2020], at the beginning of our first COVID-19 lockdown, I was freaking out. Every single revenue stream Ted and I had stopped overnight. We had $1,200 in the bank, with a mortgage, a commercial lease and residential rent to pay. We also had all the other bills an entrepreneur funds out of pocket, like health insurance and utilities for commercial and personal spaces. I started to panic and expressed it on social media. I soon realized I was not alone. I discovered there was a whole community of beauty entrepreneurs going through very similar, or in so many cases much worse, scenarios. Ted and I decided to host a roundtable discussion via Zoom with industry leaders and icons from around the country. It lasted more than two hours! Out of that came the idea to have all the people on the Zoom session that day participate in a positive, constructive message we could all send out to our fans and followers on the same day at the same time. We got a tremendous response. After it was over we thought, "well, now what"? That's when Ted and I decided it was time for us to take our combined fifty years of experience in the beauty business and pay it forward. That's when the Worth Up Alliance, a program of Beauty Changes Lives, was born.
BL: How does this iniative benefit beauty professionals?
JB: Many beauty entrepreneurs have a similar background as me. I have a high school diploma and some college education. After beauty school and getting my license I got really busy at the salon where I worked. One day I decided it was time to open my own business. I found a location, hired a staff and opened a salon. I jumped from the frying pan into the fire: no business education, no funding and no mentorship.
The Worth Up Alliance addresses those three challenges.
Real-life business education through the Worth Up Alliance Entrepreneurial Video library. We are interviewing the industry's best to tell their stories, in their own words, including all their successes and failures. We tackle things like finding a location, writing a business plan, finding your point of difference, how to start your own product line and so much more. We made this information affordable. A new interview goes live every other Monday and the fee is a donation to the Worth Up Alliance for $9.99 a month for unlimited access.
There is mentorship and coaching with people who have already done it. Sometimes we just need a little push to think of things a little differently, to be able to see the forest through the trees or even to help hold ourselves accountable and to set goals. Our mentors and coaches provide this to members of Worth Up Alliance.
Through the fundraising we are doing at Worth Up Alliance, we'll be able to give DREAM CAPITAL. We have a goal of reaching $300,000 in donations by the end of this year. When this goal is achieved, the Worth Up Alliance will be giving CASH for people to open up their own businesses. Not only will Worth Up Alliance be helping to open new beauty businesses

—

we are creating jobs, strengthening local economies and contributing to positive community growth.
BL: Why should artists join the network?
JB: The Worth Up Alliance is building a community. This community will create opportunities for networking, professional support and an opportunity for those of us who have already "done it" to give back. Whether you are working behind the chair in a commissioned salon, renting a chair or thinking of making the leap to rent your own studio space or open your own salon/spa, barbershop, or get into freelance and editorial, there is information and support for you.
BL: How can stylists be a part of Worth Up Alliance?
JB: Go to Worth Up Alliance and sign up! At Worth Up Alliance, there is room for everyone at the table.