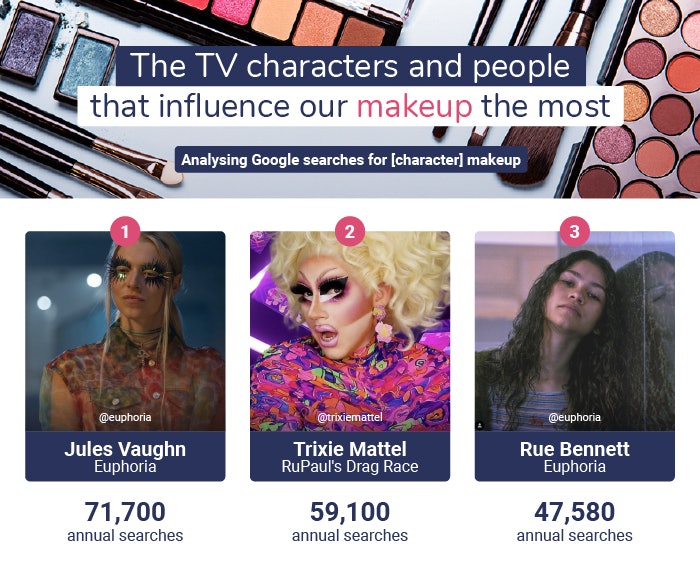 Television shows have inspired popular makeup and hairstyles for a long time: Think I Love Lucy, Charlie's Angels and Saved by the Bell.
Money.co.uk has analyzed Google search data from the past year (2020/2021) to determine which TV shows and characters are most searched for in terms of beauty looks. Some of the data may come as a surprise! 
Top 10 TV shows that influence current makeup trends:
Top 10 TV characters who influence makeup trends:
Jules Vaughn, Euphoria - 71,700 annual searches 
Trixie Mattel, RuPaul's Drag Race - 59,100 annual searches 
Rue Bennett, Euphoria - 47,580 annual searches 
RuPaul, RuPaul's Drag Race - 42,100 annual searches 
Carole Baskin, Tiger King - 31,230 annual searches 
Tate Langdon, American Horror Story - 28,710 annual searches
Joe Exotic, Tiger King - 25,580 annual searches 
Kim Possible, Kim Possible - 20,910 annual searches
Blair Waldorf, Gossip Girl - 19,100 annual searches
Effy Stonem, Skins - 15,870 annual searches
Euphoria main characters Jules and Rue rank in the top three of the most influential TV character looks. Jules opts for playful, vibrant makeup, and Rue is known for her colorful "glitter tears" look. 
Each season of RuPaul's Drag Race brings with it a new lineup of queens, each with their own incredible and unique look.
Despite its last episode airing nearly two decades ago, Friends remains relevant, as Google has seen just under 100,000 annual searches for ways to re-create the looks of Rachel, Monica and Phoebe. 
The most surprising search is for Tiger King stars Carole Baskin and Joe Exotic—do we have the latter to thank for the mullet's resurgence?