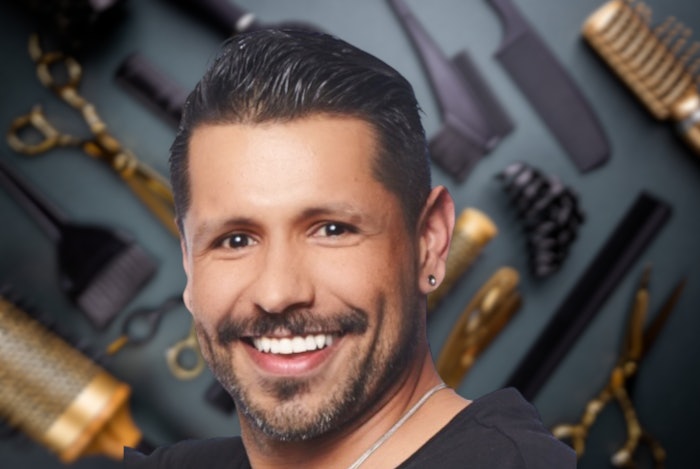 Courtesy of Anthony Montoya
Today, you will get to know Anthony Montoya (@am_hairstylist). He is an editorial hairstylist and educator at Profiles Salon in Los Angeles, CA.
Q&A: 
Beauty Launchpad (BLP): What is a fun fact about you? 
Anthony Montoya (AM): As the oldest of four, I have three younger sisters. When we were growing up, I used to play photoshoot with them as I babysat to pass the time. I did their hair, makeup and photos. 
BLP: How did you get your start in the industry? 
AM: I got my start dating a hairstylist, who I'm now married to, who invited me to a hair convention. I spent the day immersed in hair culture. I knew instantly in my soul doing hair was for me, I was meant to be here. The very next week I left my job at the hospital, left school and decided cosmetology was for me. I've been licensed and in business for 18 years now. 
BLP: What is your current favorite hairstyle trend? 
AM: I'm all about a ponytail style: Half up, high pony, low pony, etc. You can dress it up or dress it down. The options are plenty. 
BLP: What is a tip you have for your fellow stylists who are looking to grow their following on socials? 
AM: If you're looking to grow on social media, it's important to have these three things: love for what you do, discipline to do it – even when you're not feeling it – and consistency in doing the work it takes to grow. 
BLP: What is a piece of advice about styling/working with hair that you have for your fellow stylists? 
AM: When it comes to styling and working with hair, it serves us to find our niche. This isn't meant to limit us, rather to focus us on our purpose. Once you know your purpose, put in those hours – everything you want out of this industry will be mirrored back.
BLP: What do you love about your work? 
AM: What I love about being an editorial stylist is that I get to take what I love most about what I do behind the chair and turn it up to style hair for fashion magazines and creative projects. As an educator, I get to travel around the country sharing my love and passion for hair. Having a change in scenery as I do what I love is my idea of a dream job. 
BLP: What inspires your work? 
AM: My favorite place to get inspiration from is nature. When I look at the shape of trees, I see silhouettes of hair styles. When I see leaves, I see the details in the veins and how it connects to the ridges of the edge to the leaf. Inspiration is everywhere – We just have to take a second look to appreciate what is there.
BLP: What motivates you about the industry? 
AM: My motivation from the industry comes from classes I take from facilitators who give their all into delivering the message and from the attendees in the classes I've facilitated that ask the questions that lead the direction I should move in order to better serve. 
BLP: What is a career goal you have for yourself? 
AM: A career goal I have for myself is to partner with a brand/company that is focused on the art styling of hair as a director in a creative role to further inspire future generations of stylists. 
You can learn more about each of our winners in our September/October 2023 digital magazine.