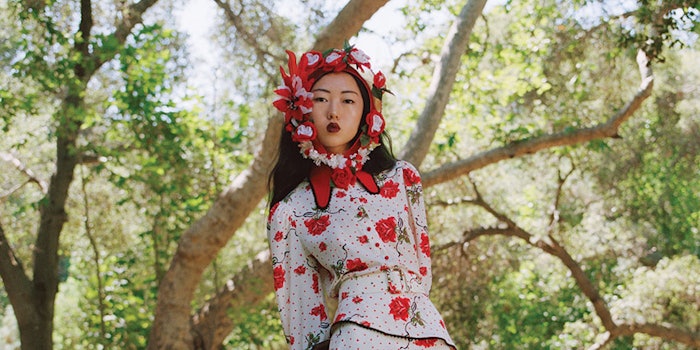 Rodarte rarely passes up the chance to add a flower—or a hundred—to strands for its runway shows. And while the Spring 2021 collection swapped the usual catwalk for a front-row-free outdoor photo session, florals remained the constant. Editorial stylist Rachel Lee took a more free-flowing approach to her bloom placement, citing "organic feminine strength" as the modus operandi for her approach. Because flexibility rather than stiffness reads as organic, Lee concentrated her energies first on conjuring rippling hair texture as her base. "The texture was created with the idea that softness is powerful," she says.
For one look, Lee lightly teased volume around the crown using the ghd Narrow Dressing Brush and then pressed the lengths using the ghd Platinum+ Styler. Framing the face with curled sections using the ghd Rise Hot Brush, Lee then brushed out the cooled ringlets with the ghd Oval Dressing Brush and finished with a few coats of texturizing spray.
For the second look, a tight chignon with wispy curls that broke free, Lee created small waves around the crown with the ghd Platinum+ Styler and then twisted and pinned the hair into place, going back in to loosen a few pieces.
The aim for both styles: "Allowing elements of nature to alter the looks throughout the day; [I wanted] a texture that could shine through and move freely with the wind and layers that could become one with the florals," Lee explains. Once she began plucking flowers and planting them in place, the spiked beauties sprouted forth with wild abandon. Additional looks featured more structured wreaths and partial garlands, but it's the delicate organic sprays that captured the feminine strength of Rodarte to a T.
For all the looks, check out Beauty Launchpad's April digital magazine.