In celebration of Angelo Seminara being named Goldwell's newest global ambassador, he has released his latest collection, Nocturnal. In this world, shy nocturnal beings coming to light in the dusky evening shadows, revealing the unique and intricate beauty with celestial hair color enveloped in the unexplainable intrigue of the evening.
Stunning, one-of-a-kind hair color designs capturing the essence of these mythical creatures and showcasing Seminara's transcendent perspective. Iceland's still, stark, monochromatic landscape at night when the moon falls into shadow serves as the collection's inspiration. 
Incorporating Goldwell's breakthrough hair-coloring direct dye technology, Seminara created distinctive, complex other-worldly colors and secretive shades reflecting the muted, fleeting, light of the late evening in the deep countryside conveyed in five unique color designs.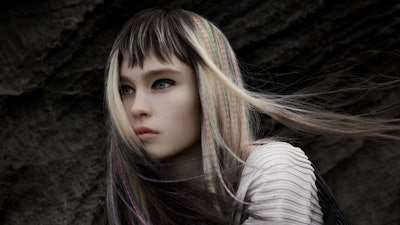 JADE: 
Base Color: 40ml Topchic Lotion 3%, 20ml Topchic 5MG and 20ml Topchic 4G
Pre-Lightener: 35ml Silk Lift 6% Lotion, 1 flat scoop of Silk Lift Strong and 3 pumps of Silk Lift Conditioning Serum
Toner: 40ml Colorance Core Lotion, 15ml Colorance Clear, 5ml 10P and 2 drops PP Pearl Blue
Green: 10ml Elumen Play Yellow, 5ml Elumen Play Green and 10ml Elumen Play Clear
Strong Pink: 30ml Elumen Play Pink
Soft Pink: 30ml Elumen Play Pastel Rose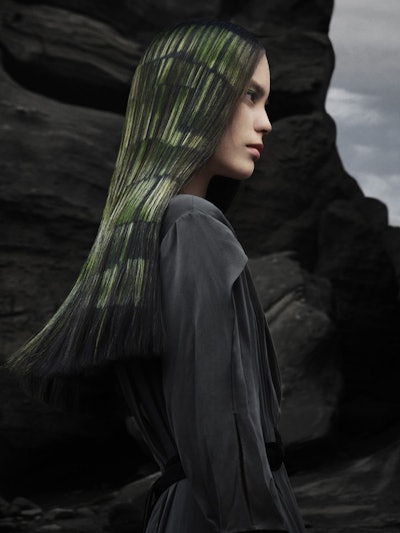 JULIE: 
Base Color: 40ml Topchic Lotion 3%, 40ml Topchic 3NA and 5ml PP Matte Green
Pre-Lightener: 35ml Silk Lift 6% Lotion, 1 flat scoop of Silk Lift Strong and 3 pumps of Silk Lift Conditioning Serum
Toner: 40ml Colorance Core Lotion and 20ml Colorance Pastel Mint
Green: 30ml Elumen YY@all and 20ml Elumen GK@all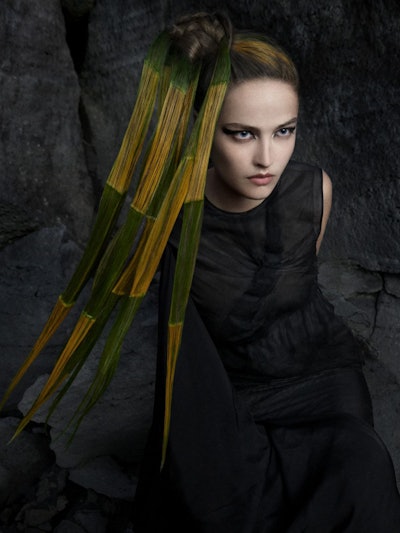 LOIS: 
Base Color: 40ml Topchic Lotion 6%, 20ml Topchic 6SB and 20ml Topchic 5BG
Pre-Lightener: 35ml Silk Lift 6% Lotion, 1 flat scoop of Silk Lift Strong and 3 pumps of Silk Lift Conditioning Serum
Yellow: 40ml Elumen YY@all and 20ml Elumen GK@all
Green: 20ml Elumen Gn@all, 20ml Elumen YY@all and 20ml Elumen PIRose@10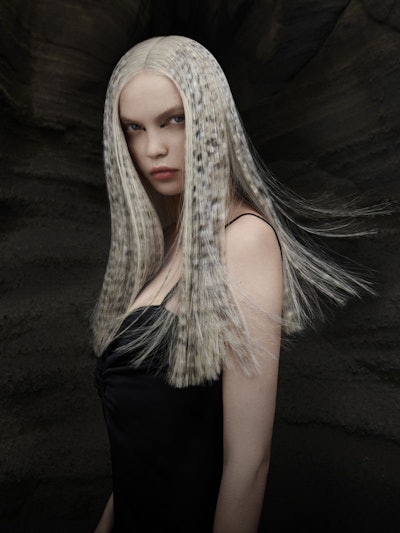 NASTYA 1
Pre-Lightening: 35ml Silk Lift 6% Lotion, 1 flat scoop of Silk Lift Strong and 3 pumps of Silk Lift Conditioning Serum
Toner: 40ml Colorance Core Lotion and 20ml Colorance 10P
Black: 20ml Elumen NA@2
Grey 1: 20ml Elumen Clear and 20ml Elumen NA@2
Grey 2: 30ml Elumen Clear and 10ml Elumen NA@2
Grey 3/Silver: 30ml Elumen Play Metallic Silver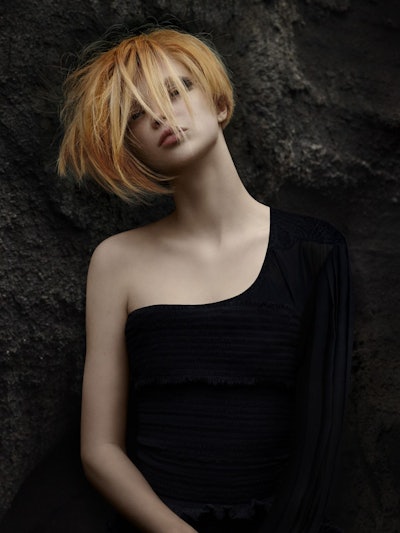 NASTYA 2
Base Color: 40ml Elumen KB@7, 20ml Elumen GK@all and 10ml Elumen KK@all
Pre-Lightener: 35ml Silk Lift 6% Lotion, 1 flat scoop of Silk Lift Gentle and 3 pumps of Silk Lift Conditioning Serum