For the Pierrot's Hair Studios salon team, the future of beauty is here in the present, courtesy of the fresh Colour Harmony compilation. When conjuring visions of what they felt was next in terms of beauty trends, the Aussie-based team members turned to Aveda products to construct what they dub "fashion hair," described by stylist Kahli French as "looking to past and present fashion trends and transforming them into something modern and beautiful for hair." Though the resulting looks are as stunning as they are diverse, when presented as a whole, they strike a perfectly harmonious balance that is indeed forward- thinking.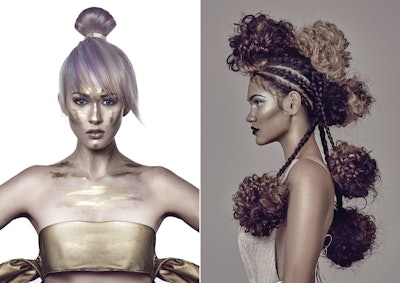 Left: Fight On - "She is a futuristic tribal warrior," enthuses stylist Amy Motteram of her model. "She is symbolic of the power we have as women."
PHOTOS: Stylist Scott Sloan Looks to the Past for His Latest Endeavor
Right: Hair to the Throne - "This image represents a queen in a world of chaos," explains stylist Matthew Woolley, whose model exudes a quiet strength along with a fierce outré 'do.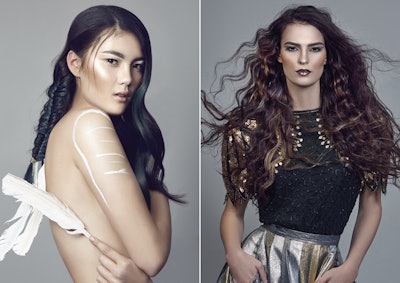 Left: Sum of Its Parts - "I love how this shoot really allowed us all to explore our creative sides," shares stylist Sherilyn Calvo. "Seeing each individual artist's work join together for one cohesive collection is simply thrilling."
PHOTOS: Gjoko Shkreli's Latest Collection, Immortal Beauty
Right: Yin and Yang - "The subtle tones intermixed with striking hair texture represent how understated beauty can still be strong," says stylist Kahli French.
[Images: by Meiji Nguyen]