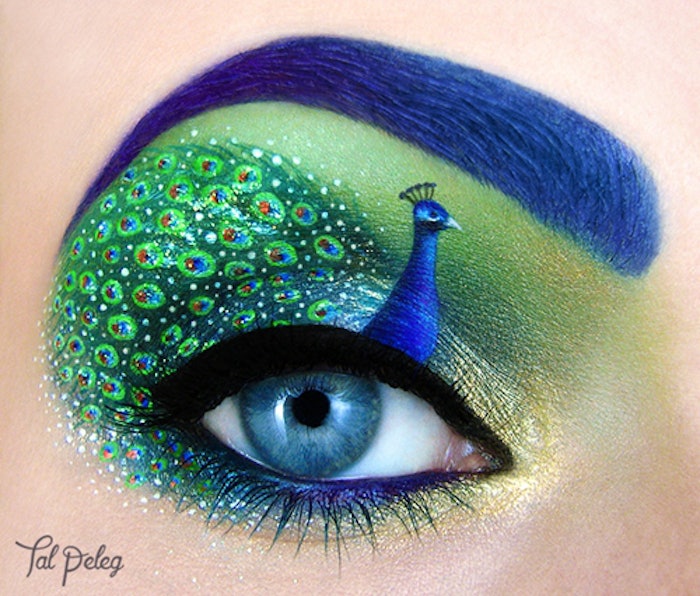 Tal Peleg, a makeup artist from Israel, dreams up stunning and unique eye makeup art that has earned her an admiring following on social media. Her imaginative style takes eye makeup to a whole new level, as she creates detailed fantasy scenes around the eyes. We caught up with Tal to chat with her about her journey as a makeup artist and to get some of her top product tips!
How did you first get into doing makeup? Do you have a background in art?
Art has been a huge part of my life ever since I can remember. My mother is a ceramic artist, so I come from quite an artistic home. As a little child, I was always painting and creating stuff. I used my young sister as a "model" for all kinds of photo shoots and weird makeup experiments. In high school I participated in theatre and acting classes, and I did the stage makeup for the other actors. That was my first experience with professional makeup.
Some years after high school, I went to makeup school, and after that I did four years of visual communication studies (there I learned design, illustration, photography and more). I had a hard time choosing my professional path. I had so many passions in life... painting and illustration, makeup, photography -the eye-art was my way of mixing all of these passions together by using the eye as my canvas. I started to share my makeup looks over the internet and in my blog, and over time my makeup looks became more and more illustrative.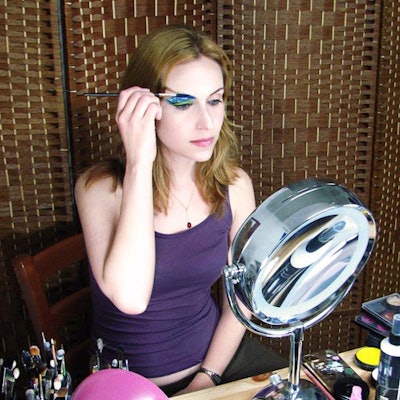 Where do you find inspiration for your work?
In my eye art, I give my own unique artistic interpretation to the things that I find interesting in life; Inspiration is all around. It can be found in emotions, fairytales, movies, animals and favorite foods. It can even appear from challenging themes like my grandmother's dementia, manic-depression or Anne Frank. I also use my art and exposure to raise awareness to important matters like anti-bullying or adopting pets from shelters.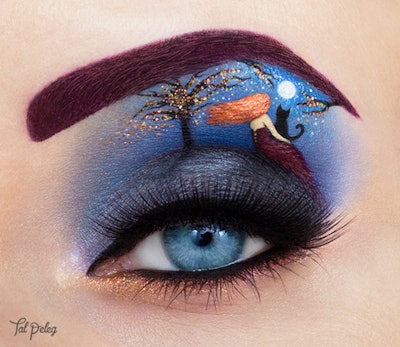 Do you have a favorite creation?
It's really hard to choose because I give my heart to each and every one of them, but if I have to choose, I think it may be the black cat playing with yarn eye-art.
Can you share the stories behind three of your favorite eye looks?
Black Cat Playing with Yarn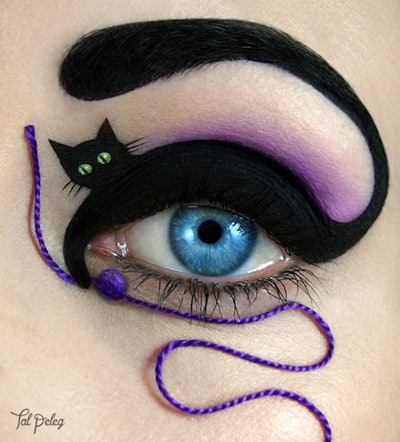 This is probably my favorite work and one of my first eye-art creations. It went viral and was an amazing success. I like this work mostly because it was dedicated to my beloved black cat Louis, when he was still alive. He died over a year ago, so this work always reminds me of him and very sentimental to me. I love how it turned out quite simple (not as detailed as most of my works), yet the idea is very creative. I don't just paint on the eye, but try to use the shape of the eye and its natural curves as part of the illustration in a creative way.
Child Artist (Barbie Project)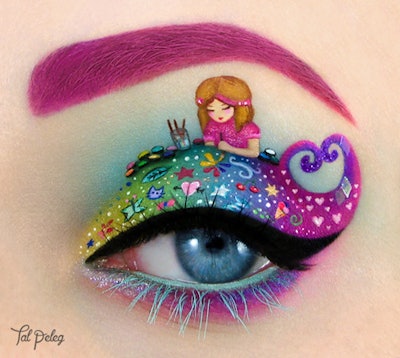 This image was created as part of Barbie's campaign Be Super. It was a great pleasure to work with a brand like "Barbie," and I was really honored that they chose me. The campaign was all about the power of imagination and creativity, and Barbie asked me to express the little girl's imagination. It was a really hard work, probably the most challenging work of them all because of the miniature doodling on the eyelid.
Insomnia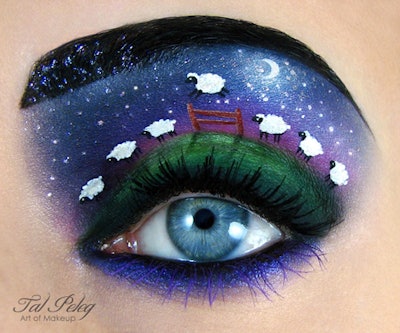 People sometimes ask me where do I get my inspiration, and I say that inspiration is everywhere and sometimes in unpredictable places. The inspiration for this work was me trying to fall asleep unsuccessfully. It was late in the night and I lied in bed trying to think about ways to fall asleep. I know counting sheep may help but I thought painting them on the eye would work better for me. So I created this eye-art, and fell asleep right after I finished.
 
Bullying is a reoccurring theme that you have addressed with your art. Can you tell us about your anti-bullying eye art and why you got involved with this cause?

Anti-bullying is an important matter, so I created this eye art in order to raise awareness. A lot of people from all over the world suffer from bullying and shaming on a daily basis, in the "real" world, and also on social media. In this work I tried to express the feelings of isolation and pain that the bullied person feels -words are thrown at him like many sharp knives or shards (made out of aluminium foil). After I published this work, many people wrote to me how it touched them and how important this matter is. I was very glad that my art influenced people and that I can use it to impact important matters.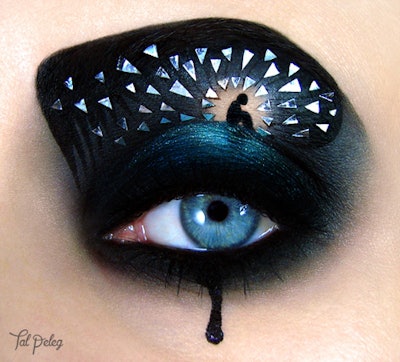 How long, on average, does it take you to complete one of your creations?
It takes between 1.5 to 4.5 hours, it really depends on how complicated the design is. I think the average time is about 2.5 hours.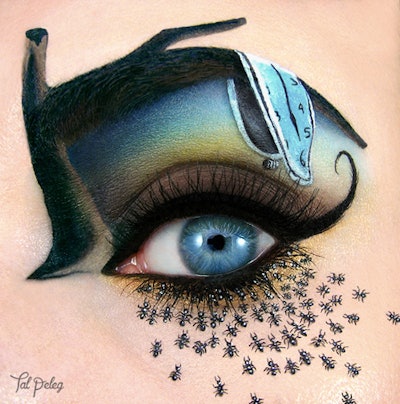 What are a few of the go-to makeup products that you use most often?
Essence get BIG Lashes Mascara, Morphe gel eyeliner, Anastasia of Beverly Hills Eyebrow Gel.

Are there certain products that work best for creating the pictures in your eye makeup?
In my eye art I use usually eyeshadows and watercolors. The eyeshadows should be very pigmented and good quality, and I like bright and vibrant colors.
 
What are your must-have tools?
My must have brushes are very, very thin brushes that makeup brands usually don't provide, so I buy paint brushes in art supply stores or nail brushes which are very thin. Also, I use a new brush for every new work, because thin brushes tend to split, and once there is a split, I can't use it anymore.
 
Do you have any favorite strip/temporary lashes--and do you ever use lash extensions?
My most used false lashes brands are Red Cherry, Ardell, Eyemimo and Eylure.  
 
Do you have any favorite eye-makeup trends or any trend predictions?
Actually, I must admit that I'm not that into trends. I do like the fact that lately there are more bold and unconventional colors for lips, and it's very nice.
 
You have a huge following on social media. Do you have any social media tips that you can share?
I try to post only things that I think may be interesting to my followers. My work is something that people love to share, so that helps me gain more followers.
 
More photos of Tal Peleg's eye makeup creations!