When great minds come together, anything is possible. Enter the latest endeavor from the Wella Professionals team: a "Studio Collaborative" shoot where each individual was able to create his or her preferred look sans any limitations, while being fully supported by his or her fellow team members. "The concept was to have all the signature artists in Los Angeles come together as a team for a creative shoot where we could exercise our unique inspiration and technical ability," explains Diego Raviglione, artistic manager for Wella Studios North America, who united with signature studio artists Oliver Shortall, Victoria Thurman-Hall and Frank Andrade.
A testament to the notion that you need all types of personalities to make a strong team, each artist's look is wholly unique—and when seen together among the work of their peers, showcases the diversity of ideas and artistry that is a part of the Wella brand portfolio. Smiles Shortall, "When we were all done and looking at the images of what each of us had created as individuals, but with the support of one another, I said to myself, 'Wow, we really do have an amazing team.'"
What was your experience collaborating with your peers on the Wella team?
Diego Raviglione: I am always in awe of the amount of talent that our signature studio artists possess.
Oliver Shortall: It's always fun working with my team, but this time was even more so. Because we were shooting our own looks, it was really interesting to "see inside" everyone's minds, in a sense. We were all there helping each other out, stepping out of our normal roles, and into the mind-set of, "If I could do anything, what would I do?"
Victoria Thurman-Hall: Collaboration with our team is always spectacular. We all have different strengths that we pull from to make our total experience positive and inspirational. This shoot in particular was so much fun, because we all just went for it and then came together to cheer each other on.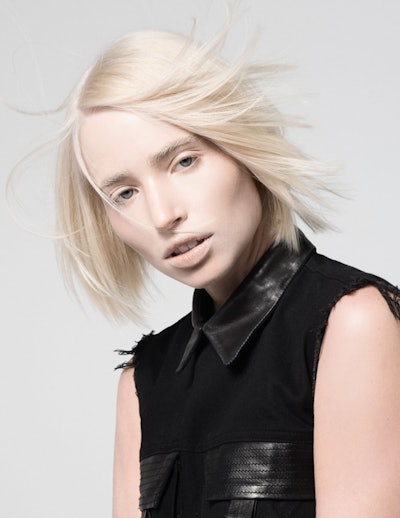 What are the main differences when shooting a collection on your own versus with a group?
OS: When shooting a collection as a team, there are generally one or two people that come up with an overarching theme, and then the team collaborates and creates the looks to represent that team. Everyone generally has a certain role, and will be in charge of making sure that happens. Shooting alone may or may not be the same way. I have never just shot something without talking about the idea with a mentor or friend. Looks always turn out better when you have input from someone that has a similar creative eye.
VTH: You know the saying, "Too many chefs in the kitchen?" Well, this shoot wasn't like that at all! We were all acting like masters. Collaboration was at an all-time high and we had a blast. I love working with a team; they help you see things that when you are working alone, you simply don't see.
Frank Andrade: The great thing about this shoot was that we didn't have a common theme or end goal. We all got to bring our own visions to life, and when we were done, were able to place all of our photographs side by side and have a beautiful and vast display of artistry. It's a true testament to how strong of a team we've become.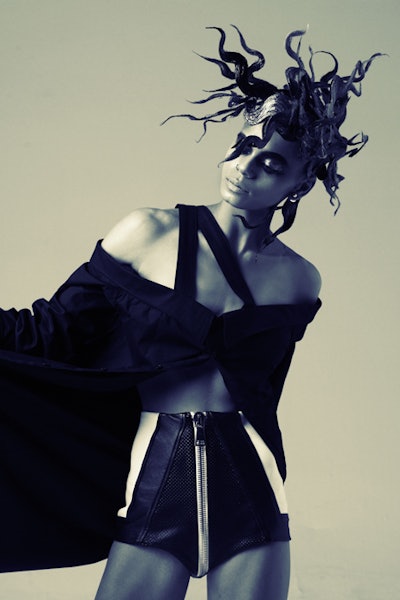 Most memorable part of working on the shoot?
VTH: It was the end of the day, I was shooting last and my model—and everyone else—were tired. All of a sudden someone says "Vic needs wind!" And the whole team came running with boards to help push through the last photos. For me it wasn't about the image, but the team pulling for each other.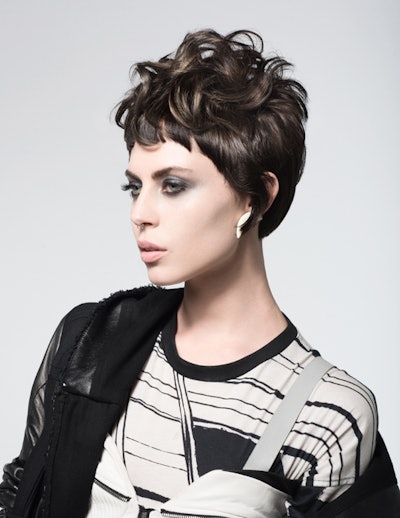 Advice to others—perhaps a salon team—working on collaborating on a collection?
DR: Be open to letting go of an idea; don't hang on too tight. The best work comes when we are open to new influences. Value and respect what each team member brings to the table.
OS: My biggest piece of advice when collaborating for a collection is to truly listen to everyone's ideas, whether someone's been in this industry for years or is fairly new to it. That is one beautiful thing about this craft: Experience and raw talent can come together to create innovative concepts.
VTH: Let people do what they do best. Push them to do more and act like a team. The final product for a good team isn't the images, but when everyone can walk away saying, "I can't wait to do this again!"
[Photos by Nick Berardi]