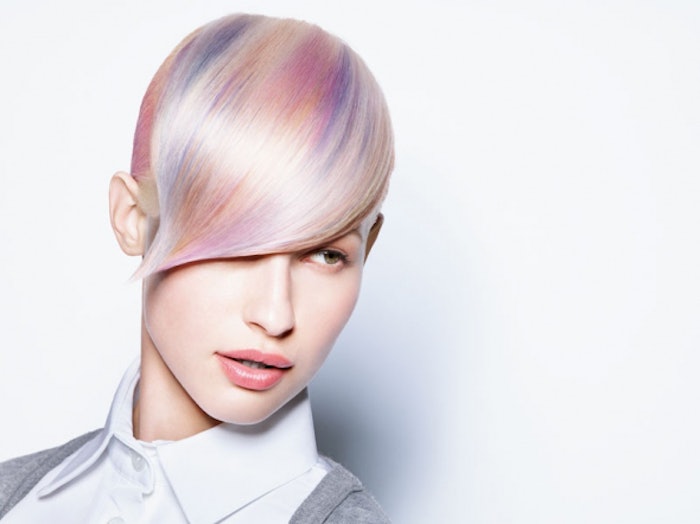 Now in its 37th season, the ESSENTIAL LOOKS 1.2015 collection from Schwarzkopf Professional aims to bridge the gap between the runway and salons by translating major trends in the fashion and beauty industries to attainable, wearable hairstyles. Meant to inspire creativity AND act as a practical guide, ESSENTIAL LOOKS 1.2015 highlights three key trends for spring/summer 2015: Pearlescent Girls, Hippi Glam and Rock Chik.

Collectively falling under the theme of "Modern Style," these three, distinct looks were created by ESSENTIAL LOOKS Creative Director Steve Hogan and the ESSENTIAL LOOKS team. "With the current ESSENTIAL LOOKS Modern Style Collection, ever woman will find a trend that can be adapted to her own style," says Hogan. Using ESSENTIAL LOOKS 1.2015 as a point of reference, stylists can create a unique, on-trend look that perfectly suits their client's style.
Click through to see more of the ESSENTIAL LOOKS 1.2015 Collection, including the Pearlescent Girls, Hippi Glam and Rock Chik collections. [pagebreak]

Pearlescent Girls

Pearlescent Girls beat to their own drum. Not afraid to take chances, these girls have keen eye when it comes fashion. Inspired by those bloggers who put street style on the map, this collection is all about mixing styles and using pastel pearl-like colors to create one-of-a-kind looks. From delicate to daring, this trend represents a captivating and courageous mix of clean shapes and precise cuts to mid-length hair, coupled with variations on every possible pastel pearl hue. Whether it's Emerald and Magenta or Lavender and Soft Candy, a vast array of color accents can be created with the IGORA ROYAL Pearlescence range.


Hippi Glam

Channeling Penny Lane from Almost Famous, clad in flares and faux fur, this collection pays homage to the era of peace, love and happiness but with a modern twist. Play with a palette of IGORA ROYAL earth tone accents for a more refined yet natural look than ever before. Whether pinned up or worn free with soft undone waves, hair with have right texture with OSiS+ Session Label.


Rock Chik

With a new interpretation of rock style, Rock Chik has reinvented provocative with short haircuts that look cheeky, yet feminine. This collection is the high-shine version of rock style for women who want to make a statement. The trend centers around intense shine and striking red and copper tones from ESSENSITY. The cuts are choppy and pointed, sharply contoured or a mix of the two. Using the BC Oil Potion for a dazzling shine, you can create an exciting tension with a touch of class, which is precisely the spirit embodied by rock in 2015.
Credits
International Creative Director: Simon Ellis
ESSENTIAL LOOKS Creative Direction: Steve Hogan
Schwarzkopf Professional Global Ambassadors: Tyler Johnston & Lesley Jennison created the models' haircuts and colors for: Hanna & Alex - Pearlescent Girls, Angelika & Katharina - Hippi Glam, Sasha & Alice - Rock Chik
Schwarzkopf Professional Regional Ambassadors: Damian Carney (USA) & Rossa Jurenas (Canada) created the models' haircuts and colors for: Victoria & Dalia - Pearlescent Girls, Isabelle & Justyna - Hippi Glam, Xinjie & Marianna - Rock Chik
Photography: Simon Emmet