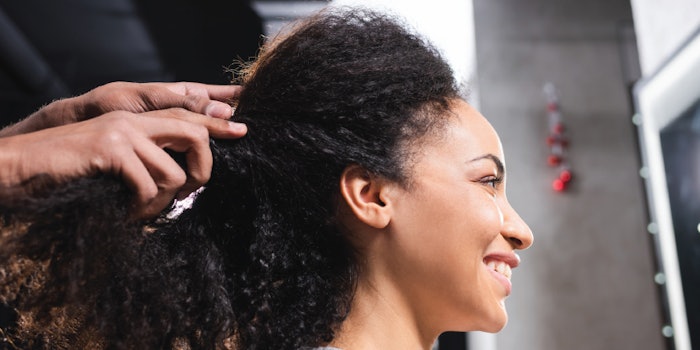 Texture Vs Race founder Keya Neal (@keyaartistically) divulges five things stylists should know when doing a curly hair consultation.
So a curly haired client sits in your chair—before approaching the consultation in the same way you would other consultations or (gasp!) skipping the consultation altogether, I've rounded up the five top elements you should consider to execute a successful consultation.
[1] All curls are not created equal. You must erase all preconceived thoughts that you may have about curls and coils, and approach each client on a case-by-case basis. Every person who sits in your chair will have a different texture—most times multiple textures on one head of hair—and will require a different approach. Understanding how to identify the core characteristics of hair fabric will allow you to confidently execute each consultation on an individual basis.
[2] Listen to your guests. Your guests will always know way more about their hair than you; let them talk. They may not have the professional verbiage, but by asking open-ended questions, you allow your clients to share their input, goals and frustrations. Once you know their pain points, you can apply your professional opinion and knowledge to not only help your clients, but to help yourself determine your game plan.
[3] Manage expectations. One of the hardest parts of servicing curly and coily guests is to get them to love and accept what their hair can and cannot do. As a stylist, it is our job to help guests understand their hair's physical capabilities and needs. Your goal is to guide clients on the journey to achieve the healthiest version of their hair and encourage them to embrace their natural textures. By understanding the core characteristics of a client's texture, you can better communicate the "why" behind the physical capacity and needs of their hair in an emotionally sensitive manner.
[4] Use reference photos. Pictures are the best way to bridge the language gap between professionals and clients, without belittling clients for using "consumer" language. Their verbiage might not be the same as yours, so getting visual confirmation of the cut or color inspiration is key. Asking for reference photos allows you to understand your clients' goals and prevents you from causing long-term harm to clients from unnecessary misunderstandings.
[5] Test curls in both wet and dry scenarios. Just as everyone's hair is different, every individual's head will have varying degrees of texture or curl. Conducting a dry consultation allows you to see clients' natural textures in real time and helps you identify curl variations and existing damage that has potentially altered their texture. A second analysis must be done when the hair is wet so you get the full pictures of clients' hair fabric qualities. How the hair reacts to water helps you identify the porosity, hydration levels and other unique physical qualities that can only be analyzed in the bowl; this is when you determine how you must adjust your formula, products and technique.