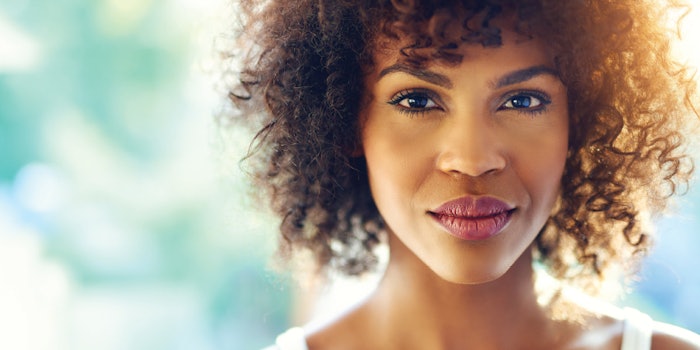 Christin Brown, Olaplex ambassador and Kenra Professional artistic creator, shares how to make your curly haircuts success stories. Read on for her tips and tricks. 
As a curl specialist and a curly haired person myself, I know the struggles those with curly hair face. Growing up in Oakland, California with my hair chemically relaxed, I was honestly under the impression the curls I would see in my toddler pictures were a faint memory, never to be seen again. Fast-forward to doing my first "big chop" haircut, where I had my shoulder-length hair cut to about one inch all over—I was immediately taken aback to see those little springy coils emerge. This was a pivotal moment in my life—the first time that I discovered what I thought was lost was actually found in the young adult version of myself.
When you have curly hair and that's your lived experience, there is typically a wild amount of hair trauma. This hair trauma is something that I see with the majority of the guests in my salon on a daily basis, and I work exceptionally hard at making sure that this narrative ends with their positive experience in my chair. For you as the professional, know the curly hair journey truly begins when you can help your client love their curls. Here are five ways you can make your next curly cut session with a guest a success story.
[1] Invest in becoming a curl specialist. I know that sounds daunting; however, not everyone specializes in naturally curly textures, and this can really set you apart in the industry. Take the time to do your research, and find classes specific to cutting and caring for natural textures or train under a curl specialist to hone those skills. Social media has also become a great resource for finding curl specialists who educate other pros as well, so get out there, sift through profiles and find the artist who best aligns with your goals and inspiration.
[2] Schedule a consultation. Most of the time, guests come to our salon not really knowing what they want. This may also apply to us as professionals because we may not know this particular client or the nature of their curls. By booking clients for a consultation, you'll have a better idea if you two are a match and if you're able to show them what's best for their hair. You want to be able to walk away feeling as empowered from the session as your guest. If you're not a match, that's alright—you can always point them in the direction of the best-suited specialist while feeling confident you're placing them in good hands.
[3] Speak up for yourself as a pro while listening to your client. Make sure you're thoroughly listening to your guests as they unpack their hair history with you. By repeating back to them what you're hearing, this will help to establish trust and leave you both feeling more confident in the next steps. As a pro, you also need to voice your concerns and desires and trust your gut instinct if the session starts to not feel aligned. This could save you heartache down the road and leave you feeling more empowered.
[4] Opt for a dry cut. A huge debate when it comes to the actual cutting portion of the session is whether the hair should be cut wet, dry or straightened. In my salon, I cut all of my guests' hair dry and in its natural state. Why? Well, when we are placing the hair in a state that it normally isn't (i.e. the occasional blowout), this may result in your haircut being uneven or cutting off way more than was intended. Unless your guest is wearing their hair straightened 80 to 90 percent of the time, it should be cut in the state in which it's worn; in this case, curly.
[5] Encourage guests to ask questions during the session. I love it when guests come prepared with either a notepad or the Notes app on their phone—I encourage them to ask questions. This is the clients' time to really get the most out of their session while helping to establish a strong bond with their stylist; it makes a world of difference.