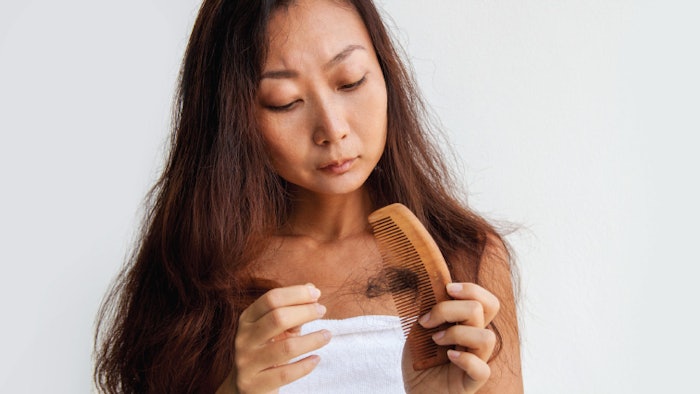 Halting Hair Loss
When it comes to hair thinning and loss, educating clients about impacting factors and possible solutions can make all the difference during a nerve-wracking situation. Here, educators from three pro brands discuss the various causes of hair thinning, differences in thinning for men and women and ways to remedy thinning or stave off future hair loss.
Kelly Harrison, hairstylist and U.S. brand manager, Biotop Professional
When it comes to hair loss and hair thinning, some of the same factors can contribute to issues in both men and women. Hormonal changes, although more likely to be seen in women dealing with postpartum or menopause, can cause many issues. Product buildup or scalp infections again can be a factor for both men and women. When the scalp is unhealthy due to buildup or bacteria growth, which can also sometimes be attributed to dandruff, the hair won't anchor in the follicle properly and will shed prematurely.
A person's hereditary background can present itself as female pattern hair loss and male pattern hair loss. Although men will start experiencing this kind of hair loss in their 20s, women usually start noticing it between their 30s and 40s, and then it becomes more prevalent after menopause. Men's hair loss tends to be genetic. Women's hair loss can be genetic, as well as related to many other conditions from hormones to diet to medication to stress.
Many salons are seeing cases of hair loss related to COVID-19 in both men and women. This hair loss can last six to 12 months, after which the hair tends to return to normal; however, don't tell your clients to simply wait it out. Advise your clients to use products that will help create an environment for healthy hair growth and eating the hair-healthiest diet possible.
Figuring out the reasons for each client's personal hair loss and then recommending different practices for their daily routines can help them work toward a stronger and healthier scalp, help reduce hair loss and help encourage new hair growth. Most importantly, clients must focus on their overall health. If they are feeling overwhelmed and stressed, recommend relaxation practices like meditation, yoga, working out and/or getting a good night's sleep.
Suggest clients see their doctor for a blood test to learn if they are experiencing nutritional deficiencies, especially if they are experiencing weight loss either intentionally or unexpectedly. A deficiency of vitamin D, B5 or zinc can contribute to hair loss. A healthy well-balanced diet rich in fruits and vegetables is incredibly important. It's more beneficial to get nutrients and vitamins from food than from supplements.
For product buildup, dandruff or unhealthy scalp issues, recommend a shampoo that contains ingredients like zinc or green tea. Used topically, zinc can provide a boost to scalp tissue repair and keep the oil glands (sebum glands) around the hair follicle working properly and reduce bacteria growth on the scalp.
Finally, have clients research the side effects of any prescriptions and over-the-counter medications they are taking and ask their doctor about side effects. Under no circumstances should they stop any prescribed medications without consulting their medical professional.
Green tea contains anti-inflammatory properties that can help reduce inflammation in the hair follicle, making it a powerful ingredient when it comes to scalp health and hair growth.
Lindsay Perez, Nioxin education leader
Understanding the different contributors of hair thinning is of utmost importance. The first contributor is the scalp. Healthy hair can only grow from a clean and healthy scalp. Variables like excess sebum or product buildup can impact the hair's ability to grow as thick and full as possible. Next are the roots. Hair grows in cycles and follows a roughly seven-year process of growing, resting and falling. However, the hair follicle shrinks with every new phase of hair growth (every seven years), which is why hair changes and tends to become less dense as we age. Finally, we consider the hair strands. Hair structure can also change as we age and lead to strands that are finer or weaker.
Men and women will experience thinning and hair loss in different ways because it is related to the individual's genetic makeup and hormones. Men will start to notice thinning from the hairline receding and crown area looking thinner. Women will notice thinning at the top of the head and crown area, specifically through a wider part line.
There are ways to address thinning and hair loss depending on what stage the client is in. If the person is just starting to see the first signs of thinning or hair loss, meaning more hair in their brush and shower or a slightly less dense hairline, it's best to act right away by assessing their health, stress levels and diet. If one or more of these are off balance, clients should seek guidance from a medical professional.
Colleen Camp, BosleyMD global education director and international advocate for hair loss prevention
Hair thinning is caused by different factors including genetics, COVID-19, hormonal imbalances, aging, medical conditions, thyroid disorders, crash dieting, smoking, tension hairstyles, chemical hair treatments and stress.
Genetic alopecia is the most common reason we lose our hair, but it's not the only reason. Telogen effluvium, also known as "TE," is any stress-related hair loss that causes the hair follicles to enter the resting phase (telogen) too soon and delays moving back into anagen (growth phase). TE can be temporary, and the hair eventually begins to regrow. Anagen effluvium is a condition caused by damage to the cells that make hair­—this occurs during chemotherapy and radiation treatments. The hair most often grows back once the medical treatments are completed; however, the hair texture can be more coarse or curly during the regrowth process.
Going for Growth
Recommending products that promote hair growth can help ease the nerves of a client dealing with hair loss.
Nioxin Hair Regrowth Kit for Women is a three-part regimen that provides thicker, fuller hair. The Cleanser Shampoo, Scalp Therapy Conditioner and Hair Regrowth Treatment contain two percent minoxidil, which helps encourage hair growth.
Want to spot-treat your client's thinning tresses? Reach for this botanical-based Follicle Energizer serum from BosleyMD. Intended to be used twice daily, the treatment contains apple stem cell extract, biotin and caffeine, which offer cellular renewal properties and increased blood circulation.
Biotop Professional 04 Shedding Ampoules contain vitamins and proteins intended to stave off hair loss. The lathering serum fortifies the roots and combats excess shedding. Thickening amino acids and citric acid help to plump strands and create fuller-looking hair.
Collagen Infusion from Nutrafol is a collagen powder formulated to strengthen hair fibers and combat breakage caused by hair aging. The formula leverages nature-based ingredients along with biotechnology to boost collagen levels that decrease over time. 
RevitaLash Cosmetics Volume Enhancing Foam is a unisex hair enhancer that employs the same proprietary BioPeptin Complex found in the brand's lash serum. The lightweight formula adds shine and body and improves elasticity to help combat breakage and aids in the conditioning of the scalp.
Eufora Protreatment System in-salon service can be customized to the individual needs of each client. Blended on demand, each treatment consists of a supercharged base, booster and sealer. The system includes a variety of products, including nutriBase, nutriBase Lite, rapidRepair, frizzControl, scalpRemedy and Sealant.