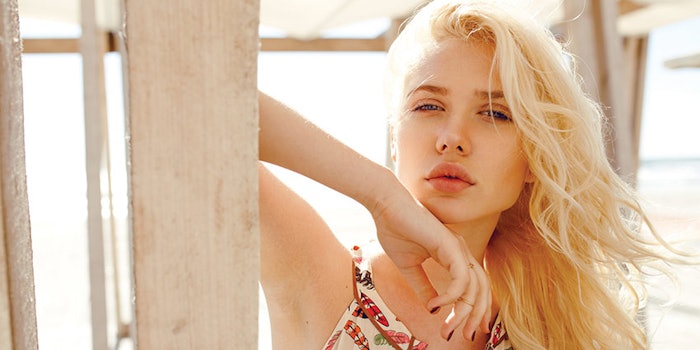 For Yara M. de la Torre (@yaradoeshair), owner and stylist at Lashes & Curls Studio in Key Largo, Florida, summertime temps and outdoor exposures stretch year-round—which takes a toll on blonde clients. "Blondes turn brassy, dull or dingy through exposure to the elements: salt, wind, water, and any minerals and/or impurities that may be living in the water," de la Torre details. "It's crucial to create a shield against these elements at the salon, and thoroughly educate clients on proper maintenance."
Behind the Chair
To create wow-worthy blondes, de la Torre suggests these in-salon steps:
Lift to the correct level. The level you reach as you're lightening will reveal the hair's undertones—and, after fading, hair returns to this tone. Therefore, process blondes to a level 9 before toning. If you rinse out too soon and try to cover up with a toner, when that toner fades, those warm underlying pigments will emerge brassier than ever.
Go slow and steady. For most blondes, de la Torre chooses 10-volume to begin lifting when foiling, then moving up to 15-volume, 20-volume and 25-volume. Lower-volume developer lifts the hair slowly but more gently, without jeopardizing hair's integrity.
Tone smart. First, tone to level. If you lift to a level 9, use a level 9 toner. Using a higher-level toner will leave you working more because you'll have to go back and tone again.
Second, tone without fear. Determine the level of lift, then determine the underlying pigment (for most blondes, it's yellow). And determine your goals for the tone: If you want something cool, without being too ashy or gray, try combining a natural, ash and gold—this trifecta typically gives beautiful results.
Finally, tone for longevity. Never rinse out toner too soon—most brands recommend a minimum of 15 minutes for total processing. Rinsing too soon negatively impacts the longevity of the toner, and your client will lose color faster.
Ensure long-term success. De la Torre offers "maintenance services" like the Tone+Treat, which combines a custom toner formula paired with her signature conditioning treatment, aromatherapy hot towel and stimulating deep scalp massage ($75). "It's a no-brainer for most clients and a great way to make extra revenue while keeping brassy tones away, for bright, beautiful, longer-lasting blondes," de la Torre explains. "This service is recommended four to six weeks post-lightening, and it builds trust and a more loyal clientele."
Post-Service Pointers
Ashlie Marmo (@ashytones), colorist at Lived in Color, located at Posh Color Studio in Easton, Pennsylvania, advocates the following aftercare advice to clients for maximum-longevity blondes.
Water woes? Invest in a water softener attachment for the shower—it'll filter out harmful minerals in hard water.
Banish buildup. Between hard water and air pollution, hair buildup happens and leads to brassiness. Hence, clients should commit to clarifying monthly.
Go purple. After clarifying, purple shampoo helps tone hair and maintain brightness. Apply on dry hair, comb through and let sit for 10 minutes; then rinse and follow with conditioner. One caveat: Don't overuse—it'll dry and dull the blonde.
Last longer. Washing hair daily strips toner faster, so wait two to three days between shampoos. Try dry shampoo as an alternative.
For the best products to help enhance your fair-haired beauties, check out Beauty Launchpad's April digital magazine.