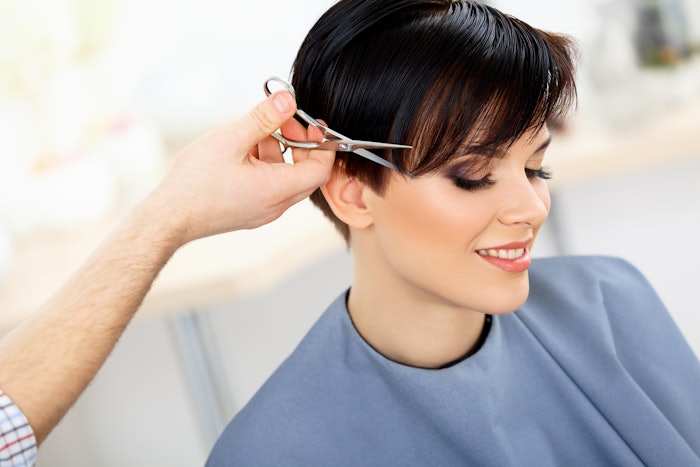 Dreamstime
Deciding whether to go for a major chop or keep long locks is never an easy decision for clients to make, but there are a few things stylists can take into consideration to help steer them in the right direction. Clients most often look to their stylists for advice so it's important you are able to help determine a suitable length before any decisions are regretted! 
Getting Your Clients Comfortable 
For starters, Cosmo Prof artistic team member Presley Poe says, "When contemplating going for the 'big chop,' it's important for clients to weigh emotional ties to their hair or the situation that is making them evaluate those feelings before they head to the salon chair. If something personal has sparked these new feelings of change, I always recommend for clients to give it time to think through the decision before making an impulsive chop. My clients can reach out to me, on social or text, and discuss before they come into the salon."  
Cosmo Prof artistic team member Jon Carlos De La Cruz also advises his clients to take time to think about the decision, but if they are ready for a drastic change–go for it! I always ask my clients, "Are you looking for a drastic change? Are you looking for a new sense of freedom or lightness? If so, the big chop may be the way to go."
Many chopped their hair in the pandemic because they were seeking change, but Presley reminds that it's important to think of the after before making the cut. "Just remember, with big change comes new styling and aftercare regimens, so stylists should also always advise clients to think about the new aftercare requirements, which can be more unnerving than the cut itself."
When to Make the Suggestion for a Chop 
Carlos mentions if hair has been chemically damaged, a chop could be a great way to start a healthy hair journey and allow it to grow back healthier. If your client is unhappy with her hair health but still wants to be bright blonde, you should advise the best next steps to get hair in top shape. 
Tips and Tricks for Making the Cut 
Carlos believes shorter looks suit all face shapes—it's the approach and the customization that's important. Presley also shares, "I truly believe that shorter looks are a lot like color; we can all wear every color, but we might not necessarily look the best in every shade. Short hair can be worn with any face shape, it's just about finding the right shape and style to balance your features."
It's also important for stylists to keep in mind that if their client has a particular part and/or curly hair, they will have to customize the cut to their stylistic preferences. 
Maintenance 
After making the cut, it's also important to equip your clients with the knowledge and products they need to keep their new style fresh and healthy. When it comes to products and taking care of your length or new chop, Carlos recommends Moroccanoil products from Cosmo Prof for moisture. Presley suggests investing in a great gloss, a great treatment, and a great shampoo and conditioner—they recommend the Olaplex line for full-spectrum benefits.
For styling short cuts like pixie cuts, Carlos recommends pomades like Bed Head's Slick Trick; it may be marketed toward men, but it's a great multipurpose product for anyone. 
No matter the length, the most important thing is to take time to make the right decision and work with your client to find the best style that will leave them smiling when they leave the salon.
--------------------
Seeking cutting inspiration? Check out top education at Salon Pro Rx, where some of the industry's best and brightest share their cutting techniques and strategies.