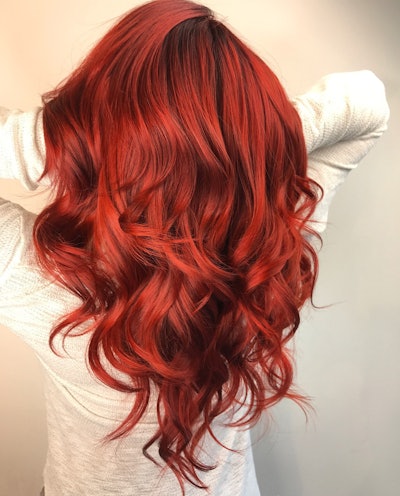 Now that Fall is in full force, it's the perfect time to transform clients into beautiful, full-bodied colors! PRAVANA COLOR COLLECTIVE Head Colorist Presley Poe brings rich, rustic vibes to life with this amazing Autumn shade!
Using PRAVANA ChromaSilk and ColorLush Demi-Gloss to achieve a long-lasting, gorgeous tone, Presley drew upon her own passion for the Fall season for inspiration. To step up the boldness of the color, she added a custom-colored VIVIDS overlay for an ultra-rich, glossy color that turns heads wherever her client goes!
This is a perfect look for anyone that wants to jump into those crunchy leaves with a vivacious hair color that is radiant and ideal for any occasion.
Check out Presley's formulas and technique to create the look below:
Lift base with PURE LIGHT Power Lightener with 10 vol developer to achieve a warm level 8.
Apply base formula- 2 parts ChromaSilk 5.45 : 1 part ChromaSilk 4.52 + 2" inch ribbon of ChromaSilk Red Additive with Zero Lift Developer
Apply mid-shaft formula- 3 parts ColorLush 6RC : 1 part ColorLush 7C + one full dose of ColorLush Red Color Boost + one full dose ColorLush Gold Color Boost to equal parts ColorLush Activator
Apply final formula to ends- ColorLush 7C : ColorLush Activator.
Process for 20 minutes, then shampoo with PRAVANA Moisture Rich then dry completely.
Apply VIVIDS overlay from roots to ends: 3 oz. VIVIDS Orange + 3 drops VIVIDS Blue + .75 oz. VIVIDS Red to create a burnt orange hue.
Process for 20 minutes, shampoo and condition. To recreate Presley's signature shine, mist towel-dried hair with the lightweight NEVO Intense Therapy Leave-In Treatment to detangle and rebuild strength, then apply NEVO Color Lock to shield hair and color from any environmental damage, ensuring longer-lasting health and vibrancy. Dry and style as desired! Finish with a few pumps of PRAVANA NEVO Hydra Pearls to seal in moisture, maintain strength and add shine!
 [Image courtesy of PRAVANA]