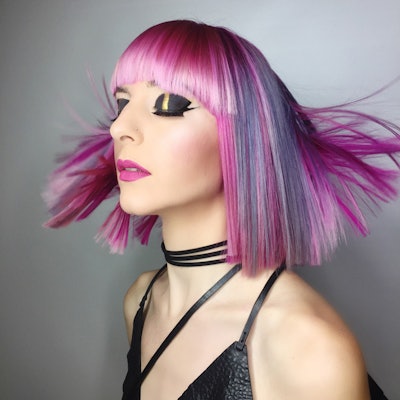 Hello, 2017! It's a new year, and if your resolution is to have your most creative year yet, you're in luck! Beginning January 2017, Pravana is launching Vivids XL — a super-sized version of the brand's cult favorite Vivids line. Vivids XL offers almost three times more color per tube, allowing stylists to get creative without the hassle of continually re-stocking and shuffling back and forth for more tubes of color.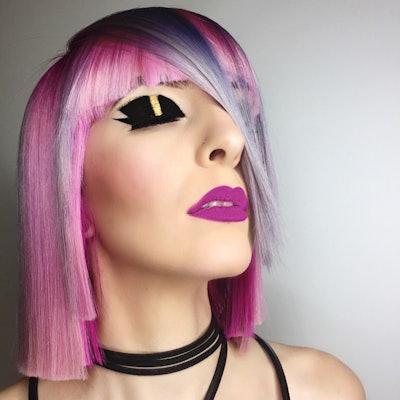 To celebrate, Pravana Artistic Educator, Presley Poe, decided to give her client a new look for the new year. Using Vivids XL, Presley created this gorgeous pink and blue color combo that's bold, bright and downright beautiful. Recreate this magical magenta look for your own clients with Presley's color formula, below!
Get the Look:
Prelighten hair to level 10 with Pure Light Power Lightener and developer of choice.
Shampoo, condition and dry completely.
Apply VIVIDS XL Wild Orchid to base.
Create pie-shaped subsections at the apex. Apply VIVIDS XL Wild Orchid one inch above the ears and two inches above the occipital.
Apply VIVIDS XL Silver + VIVIDS XL Clear to crown.
Apply VIVIDS Pink + VIVIDS XL Clear to bangs.
Process 20 to 30 minutes at room temperature.
Shampoo, condition and protect with the VIVIDS Color Protect aftercare line.
Style as desired.
Beginning January 2017, VIVIDS XL will be available at SalonCentric, State | RDA Pro Mart and professional beauty supply stores.