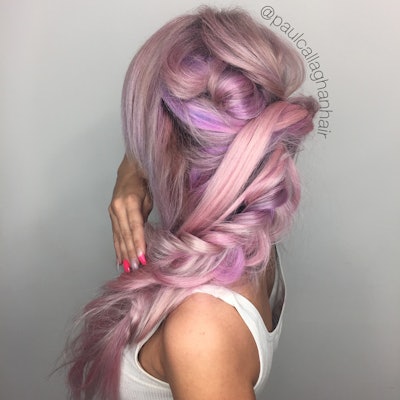 Hairstylist Paul Callaghan, Founder of Paul Callaghan Hairducation, recently helped transform makeup artist Saira Lee - known on Instagram as @saira_makeupartist - with this gorgeous rose quartz hair color.  "This was a total labour of love [as] she had so much previous damage," says Paul. The end result? A gorgeous, multi-dimensional blush shade that's perfectly on-trend for summer 2016.
Recreate this stunning look in the salon with Paul's how-to, below!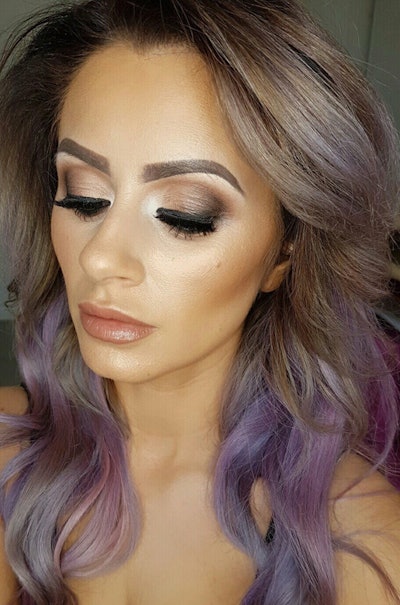 "I started off with a Schwarzkopf BLONDME and hot water scrub," says Paul. "This helped exfoliate out old direct dyes which were a deep lilac purple. After the excess was gone, I went in with a stand-alone Olaplex treatment to prep the hair for the first round of lightener."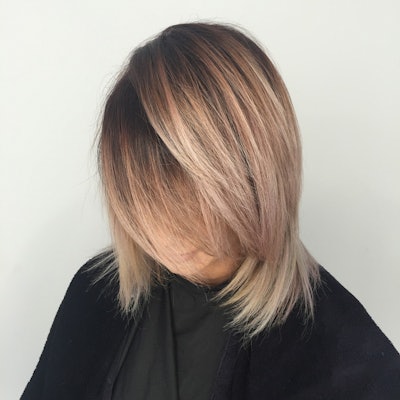 "I did back-to-back foil slices with Schwarzkopf BLONDME and 20 volume, leaving out the already blonde ends and really saturating the old root fade, which was a level 6 ash blue (6/12 Schwarzkopf)," continues Paul.
"[That] developed for 40-60 minutes; some areas kicked up a lot of orange tones so I mixed 10g of Schwarzkopf Igora E-0, 5g E-1, 5g Wella Color Touch 2/8 and 1.9%," says Paul. "I poured this over the hair and quickly rubbed through for around 30-40 seconds and rinsed. I added a small root fade with Schwarzkopf Igora 5g E-1, 3G 0/99 and 5g 7/0 with 1.9% on damp hair for 20 minutes. The toner kicked out the worst of the BRASS! [I followed this with] another stand-alone Olaplex treatment."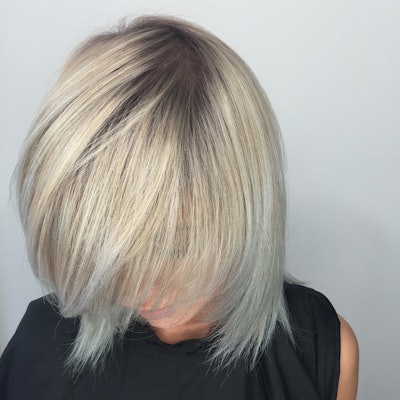 Says Paul, "I then applied an LA Weave and custom-mixed Crazy Color in Lilac; Purple and Clear; Cotton Candy; Marshmallow and Pinkissimo; Silver; Platinum, and Black." Note: if Crazy Color is not available, use Paul's alternative formulas with PRAVANA VIVIDS:
Clear/Olaplex 2, dot of Magenta and a dot of Violet
Clear/Olaplex 2, Pink with a dot of Magenta and spot of Silver
Clear/Olaplex 2, Silver with a few drops of Black additive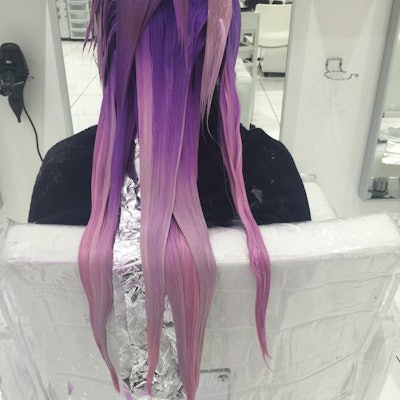 "I worked these out in color-melting and reverse-balayage techniques, creating deep V's," says Paul. "And, viola! I present to you ROSE QUARTZ!"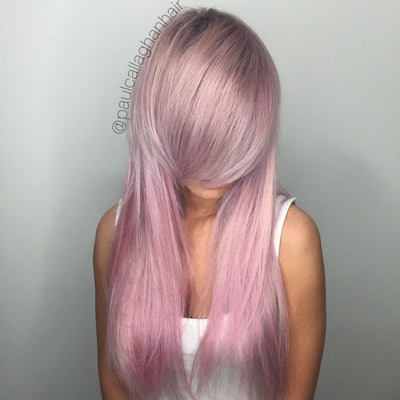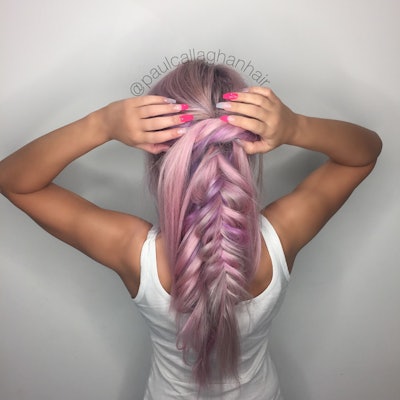 For more from Paul, follow him on Instagram @PaulCallaghanHair.