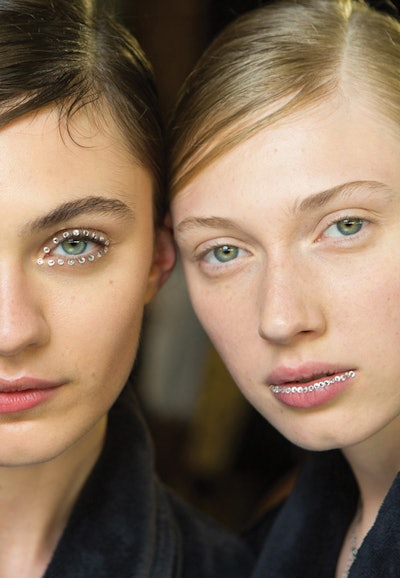 These days, when a pot of glitter is placed in the hands of a backstage makeup artist, it's only a matter of time before she's shooting a KiraKira video to capture all of its twinkling beauty. The degree to which that glitter is packed onto eyelids and lips, however, varies from season to season. For the spring/summer 2018 catwalks, artists typically eschewed a light dusting of sparkle in exchange for more impactful applications, even layering radiant flecks with sequins (seen at Stella Jean)—a bold choice, indeed. What made the season's glitter renderings most interesting boiled down to their placement (almost exclusively kept to the ocular area): Rather than douse the lash line in glitter—a much-beloved and somewhat safe design— NARS international makeup artist Sada Ito instead draped eyelashes in feathery flecks at the Toga show—a makeup move that outshone the clothes (see page 10 for more variations on this look). Also brilliantly adventurous: Makeup artist Yadim's mapping of a mesmerizing twinkle-tinted horseshoe that flows one shimmer hue into the next at Gucci—a look that dazzles in its impressionistic leanings.
RELATED: How to Get the Look: Rochambeau Spring/Summer 2018 at NYFW
For those pros who desire a more subtle teaching of the trend, not to worry; hints of glint reflected brilliantly on the runways, too, affording you new techniques to try out on your intrepid clients. One to adopt: an unusual flicker of ash that grabbed light and didn't let go at the Anna Sui show. To achieve it, makeup artist Pat McGrath slashed a vertical stripe of glistening glitter down the center of models' eyelids, extending it below their bottom lash lines well into their cheeks. To make it stick, she explains, "We used a small makeup brush dipped in [Elizabeth Arden] Eight Hour Cream" to draw the line and then pressed Inglot Body Sparkles in Silver and MAC Glitter in Reflects Pearl and Reflects Gold into the sticky balm.
RELATED: How to Get the Look: Gigi Hadid at Prabal Gurung NYFW
Not all glitz was glitter, however. When makeup artists desired a cleaner take on the trend, they grabbed their tweezers, adhesive and a variety of rhinestones to highlight everything from cheeks (Givenchy) to lash lines (Jeremy Scott) to lips, lids and hair partings (Dries Van Noten). Though makeup artist Peter Philips felt his spangle-heavy Dries Van Noten creations verged on "Vegas campiness," the artful arrangement of crystals spoke to a much more upscale aesthetic than what a showgirl would don. Speaking of showgirls: MAC lead makeup artist Kabuki stressed that any bawdy or gaudy correlations that could be drawn for his Jeremy Scott stone-studded makeup design needed to be nixed from the get-go. To accomplish that he noted thoughtful choices—like color—help elevate this trend. "Crystal-clear rhinestones looked too showgirl, so I chose colors that matched up to the girls' skin tones," he says, citing Swarovski Smoked Topaz as a stellar pick for darker skin tones and Crystal AB as a stunning match for fair complexions. Certainly a lot of thought goes into any well- executed makeup design, but when dealing with dazzle, prudent planning means the difference between tasteless and tantalizing.
Maximum Flash
All-out sparkle sets the zeitgeist for the season. Invest in mixing mediums or cosmetic-grade glitter adhesive to cut down on fleck fallout.

3-D Glitz
Rhinestones transformed into beauty marks, eyeliners and lip enhancers, while sequins served to add dimensional ash to already glistening lids.

Dimmer Shimmer
It's not completely lights out with subtle shimmer designs. A smattering of gold leaf, a veil of pixie dust or a more grandiose spangling on lashes is just enough to nail the trend.
Stick Glitz
Try these glitter adhesives and stone-cementers for secure spangling.

[Images: Getty Images, products courtesy of manufacturers]