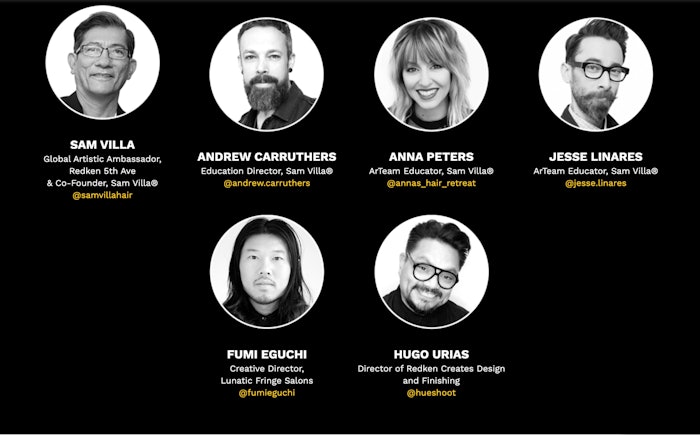 Sam Villa and his ArTeam, Andrew Carruthers, Anna Peters and Jesse Linares, along with special guests Fumi Eguchi, creative director at Lunatic Fringe Salons and Hugo Urias, director of Redken Creates design and finishing, are spending two days sharing tips for Hair @ the Chair Today on Sunday 9/20 and Monday 9/21.
Sam Villa is cofounder of Sam Villa® (Allvus, LLC). He won the 2020 International Hairdressing Awards International Hair Influencer of the Year, the 2017 NAHA Lifetime Achievement Award Victor and several other prestigious awards.  
Stylists and salon owners will have access to FREE digital education on hot tips and techniques, as well as insight into LIVE educational events and ergonomic cutting and styling tools (brushes, combs, thermal tools, shears and accessories).
Some topics that will be addressed include:
Problem:

Guest does not have time for color but wants fullness at the crown?

Solution:  Turn to a cutting technique that disrupts the interior underlayer to develop more volume.

Problem: Can't double book color clients due to new restrictions?

Solution: Learn techniques with less foils that yield the impact of longer services.  

Problem: Can't have guests waiting in common areas? 

Solution: Switch to virtual consultations to save time!

Problem: Can't blow dry due to restrictions? 

Solution: Learn value-added ways to style and treat hair so pricing can remain consistent.

Problem: Shampoo bowel backed up or taking too much time? 

Solution: Expand dry cutting skills with both shears and razors that deliver beautiful texture and movement.