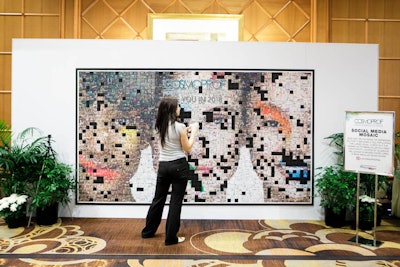 Cosmoprof North America is gearing up for its 16th edition, to be held again this year at Mandalay Bay Convention Center in Las Vegas from July 29 - July 31 and registration is now open for the all-encompassing, award-winning, b2b beauty exhibition.  The award-winning event covers all facets of the industry, offering retailers, distributors, beauty brands and suppliers alike the unique opportunity to discover trend-directional solutions to meet their needs from the acclaimed packaging, cosmetic & personal care and professional beauty pavilions.
Offering ample opportunity for attendees to grow their business through its robust educational programs, Cosmoprof has once again delivered an unprecedented line-up of "must see" programs, which are now also open for registration. Educational sessions are produced in partnership with some key beauty and business outlets including;  Women's Wear Daily (WWD), Entrepreneur Magazine, Buzzfeed, Insider's Guide to Spas, CEW, The Brain Trust-CAA, FIDM, Beauty Packaging, BXP Magazine, Fat Mascara, Cosmetics Design, Professional Beauty Association (PBA) and CEW.
The Entrepreneur Academy offers a day-long series of workshops not offered at any other industry event or trade show. The Academy focuses on everything attendees need to know to run a beauty business. Attendees are encouraged to check www.cosmoprofnorthamerica.com/education for updates and additional offerings leading up to the show.
"Cosmoprof North America (CPNA) is a celebration of beauty that provides key executives from around the world with the opportunity to discover new partnerships for growth and innovative solutions for evolving brands," said Daniela Ciocan, CPNA marketing director. "This year's unique educational programs, coupled with the high caliber of our attendees, guarantees yet another successful event that will exceed expectations."
Brand new this year is a special collaboration with Founders Factory—a London-based global digital accelerator and incubator. Backed by L'Oreal, Aviva, easyJet, The Guardian, Holtzbrinck and CSC, Founders Factory is a new model for corporate innovation and startup creation. CPNA attendees and exhibitors will have the unique opportunity to learn about Founders Factory and apply to the Beauty Tech Accelerator program onsite at the convention.
"The collaboration with Founders Factory enables CPNA to continuously maintain its leadership for offering unmatched business building networking and learning opportunities," Ciocan said. "We are thrilled for the opportunity to give our participants rare access into this revolutionary program."
A dedicated Founders Factory lounge will be located in the Interactive Technology special area on the show floor. Show visitors can experience some of the latest beauty tech solutions from program graduates and meet directly with a Founders Factory representative. Select applicants will be chosen to participate in the 6-month bespoke program and receive rare access to a global network of entrepreneurs, business and world leaders. From business plan development and fundraising to product engineering and marketing, an in-house team of 60 specialists are committed to helping program participants propel their brand.
"Founders Factory provides one of the most tailored growth programs in the world and we have a mission to find and develop the most promising early stage startups through an open innovation culture. We are a talent magnet and we are encouraging any budding entrepreneur with a passion for beauty and technology to come and visit us!" said Laura Delgado, Business Development Lead at Founders Factory. "Our collaboration with Cosmoprof North America offers an unparalleled platform for us to meet with best in beauty and ensure optimal program visibility."
To underscore the incredible power of packaging and formulation in the beauty industry, Cosmoprof once again will hold The Beauty Innovation & Design Awards (BeautyID Awards) in partnership with Beauty Packaging, which recognizes creativity in packaging design, material and product formulation in the ever-growing beauty segment, is now open for submissions.  The Awards cover all cosmetic product categories (hair, nail, skin, color, personal care, fragrance and sustainability) across professional, prestige and mass market segments.  Winners will be announced during a celebratory reception held on July 30.
"The inaugural awards last year were an incredible success—with an abundance of creative and innovative submissions from around the world.  And we have another impressive group of submissions this year," said Ciocan. "In today's virtual world, where social media is more impactful than ever, creative package design is critical to success and our industry is delivering," I'm proud we are able to provide another platform for brands to stand out while simultaneously maintaining our leadership for delivering such programs."
Also new this year at CPNA is a program called Beauty Vanities. Created to provide access for smaller brands to make a splash at the show, the show space offers value pricing for upstart brands. Participation in the Beauty Vanities special also gives exhibitors access to many of CPNA's special area programs such as buyers programs, TV shopping auditions and innovative social media programs, such as Beauty-E Zone, CPNA Beauty Reviews and See It @ CPNA.
Brand new this year is CPNA's latest activation to propel emerging beauty brands to the next level with Beauty Pitch Angels 2018. This new program is all about efficiently bringing truly qualified investors and target companies together for impactful opportunities. Being able to offer attendees the opportunity be seen by a wide group of qualified investors while simultaneously gaining further visibility and networking opportunity at the largest B2B beauty event is unparalleled.  For the investors it's equally thrilling since they too are given the rare chance to see so many viable business investment opportunities in one event.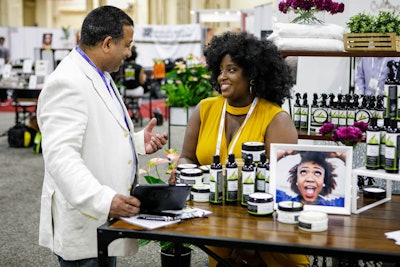 Interested brands must apply online and pre-selected companies will be invited to pitch live to a group of prominent angel investors at Cosmoprof North America for the chance to walk away with a business-building cash infusion and brand exposure at the event.
The program is open to existing beauty companies with at least one original product and $500 thousand in revenue. Selected companies will be invited to present their business model and request funding to interested investors during a 15-minute, closed-door pitch on Sunday July 29th. All applicants will have the opportunity to be reviewed by all participating investors – while only some will be selected to pitch live to investors. The entrepreneurs must be prepared to make a presentation to as many as six investors in the room at a time, and be willing to show their current sales, distribution model, market opportunities and intended use of funds.
The Beauty Pitch Angels 2018 event will take place Sunday, July 29, beginning with a 12 p.m. round-table entitled "Destination: Exit Point. Investor's Corner" hosted by "Forbes" magazine. The investment pitches will follow from 1 p.m. to 5 p.m.  Registration for both entrepreneurs and investors now is open through June. For more information, please click here or email CPNA@Cosmoprofnorthamerica.com.
CPNA will also expand its partnership with Qurate group this year, parent company to ​QVC and HSN.  The collaboration for beauty brands exhibiting and attending the exhibition provide an unmatched opportunity to meet face-to-face with QVC and HSN beauty merchants, buyers and practice with on-air hosts. 
A dedicated space on the show floor will host live shopping auditions for exhibitors on Monday July 30th from 1-5​ p.m​. Brand new this year, ​both attendees and exhibitors will have the opportunity to practice with on-air QVC and HSN hosts during "The Beauty of the Sell" mock sells on ​Sunday from 1 p.m. to 3 p.m. with QVC host Alberti Popoaj and ​Monday from ​1 p.m. - 3 p.m. with Amy Morisson of HSN.  The most exciting aspect of the collaboration will be a special on-air segment branded "Discovered At CPNA" featuring brands discovered at the exhibition to be aired by QVC​'s beauty iQ​ early next year.
Attendees will also once again have the unique opportunity to visit BOUTIQUE to create their own personalized box with deluxe or full-size samples from selected exhibitors. And those interested in getting cool apps or digitally supported tools into their lineup must visit the interactive technology area anchored by Founder's Factory.
To register, please visit www.cosmoprofnorthamerica.com.
[Images courtesy of Cosmoprof]