A fresh, natural wave set the stage for Prabal Gurung's Pre-Fall presentation, where versatility is everything. "We wanted to create a look that could be worn either at work, or when you leave work and go to the party," explains Detra Smith Artistic Director for Hot Tools. "It's kind of like she curled it this morning and here's what's left in the afternoon—but it still looks fresh," she explains of the effortless style.
To get this new red-carpet standard, Smith uses the Hot Tools Black Gold Turbo Ionic Salon Dryer to blow out the hair. The team does not use a brush or comb when drying, Smith explains. "We only used our fingers to twist it, to create natural texture," she says. Next, she pulls strands that are an inch to an inch and a half wide, and using the using the Hot Tools 1 ¼" BLACK GOLD™ Marcel Iron, adds a natural S-pattern in the hair. Smith loosens the curls to give them a natural wave.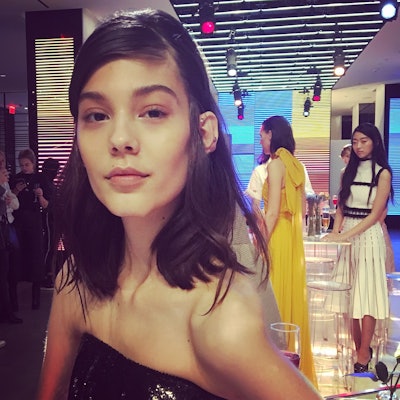 Smith's motivation came from Gurung, who wanted to create a look that wouldn't lock into any one style, but instead be versatile enough to work with any design. "The front of the look is smooth and polished," explains Smith, who pins hair behind the ear with an emphasis on the volume in the crown, to show off the texture. "The texture goes throughout the ends in the back," she says of the two-in-one look. "The girls with naturally curly texture were left as-is, but we blew the hair out larger with the blowdryer to create a larger scale look," she says. Ultimately, for Pre-Fall, less is more. "It's feminine and pretty but at the same time carefree," describes Detra. 
[Images by Emilie Branch]