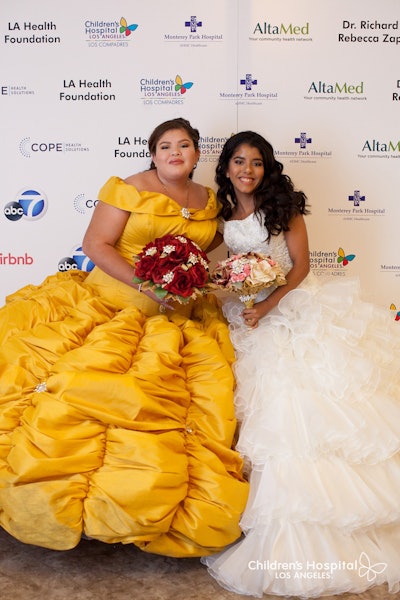 Each year, in partnership with Los Compadres, Children's Hospital Los Angeles (CHLA) holds a quinceañera for a deserving patient who is nominated by social workers. This year, they honored two girls as the result of a very generous bride who cancelled her wedding and donated all of it to the hospital.
More than 250 guests gathered for the event held October 27 at the White House Event Center in Anaheim, CA. The evening began with a blessing and was followed by dinner, program and dancing.
The first young lady to be honored, 15-year-old Edna Segura, suffers from a rare brain cancer. She is losing her sight as a result and is in the process of learning braille. She lives with her mother and 18-year-old sister, who takes care of them both as her mother is also losing her sight due to diabetes. She is obsessed with Belle from Disney's Beauty and the Beast and looked exactly like her, from the hair to the dress to her nails.
The second young lady, 14-year-old Kailey Farias, suffers from a rare blood condition that requires weekly transfusions. She was dressed all in white and ruffles with her hair long and loosely waved. Her mother also received pampering from the glam teams.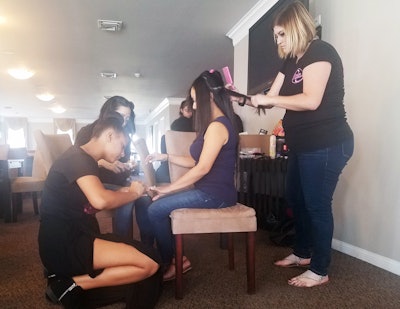 The Polished Girlz team, led by 17-year-old Alanna Wall (who flew in from Dayton for the event), used polishes and supplies from Orly to create the nails for the girls and their mothers and sister. Polished Girlz and Orly have partnered before for other CHLA events so they were happy to be involved again.
Taylor Boren, educator for DreamCatchers, added ITip hair extensions into the hair of both mothers, creating a fuller and longer length that she then cut and shaped so that Luz Maria Salgado Sequeira and Stephannie Castaneda from Sutra Beauty could create the loose waves and curls requested by the ladies.
Morphe had a team of three in attendance to create the makeup looks. Instagram influencer Deysi Lomeli (@deysidanger) worked on both Edna and Kailey while Delsy Lopez worked on the mothers. Amanda Llamas did the makeup for Edna's sister Elvia.
Each brand also gifted the five women with product to take home.
[Images courtesy of CHLA]