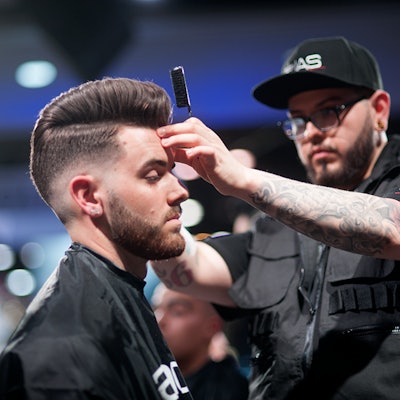 Last Saturday, Andis® Company debuted the first-ever men's grooming competition on the center stage at America's Beauty Show. Fourteen professional men's grooming contestants showcased their talent and clipper-cutting techniques during Andis'® Fabulous Fades Competition on the CosmoProf Center Stage.
Using Andis® products and tools exclusively, professionals from across the country were tasked with creating a cutting-edge look in 30 minutes on a live male model. Contestants were required to remove at least a 1⁄2 inch of hair, then judged on their technique, originality, style and tool usage. The top three barbers – Horacio de Loera, Jesse Gill and Jamal Sherman – were awarded Andis® products and monetary prizes.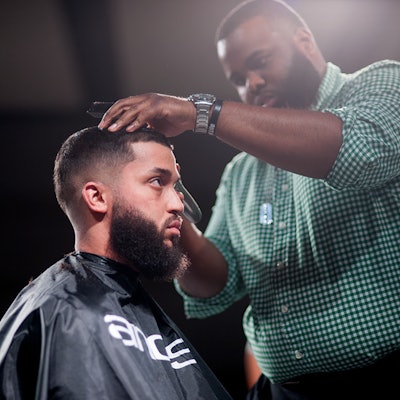 "We are excited to partner with ABS and CosmoProf to bring the first-ever men's grooming competition to a main stage at a major industry show. The Fabulous Fades Competition challenged some of the nation's best to showcase the art of men's grooming, and create both an innovative and well executed cut," said Karen Formico, Vice President of Marketing for Andis. "We are incredibly proud of and impressed with the caliber of talent at this first-time event and congratulate all of the competitors on a truly extraordinary performance."
Fabulous Fades winner, Horacio de Loera, from salonJAS in Oak Park, IL, expertly fused an old-school pompadour style with a new-school fade to capture the competition's top accolade – $500 in Andis® tools and $100 cash. "I've been barbering for over 10 years, and love using Andis clippers – they are the perfect tools for executing fades," said de Lorea. Second-place winner, Jesse Gill from LIONHEAD Barber Parlour in Bartlett, IL, and third-place winner, Jamal Sherman from Groomed in Toledo, Ohio, received $250 in Andis® tools and $50 cash, and $150 in Andis® tools and $25 cash, respectively.
Andis will host its next men's grooming competitions at Premiere Orlando on June 4-5. For more information about Andis® or the Fabulous Fades Competition, please visit Andis on Facebook, Instagram or Twitter.