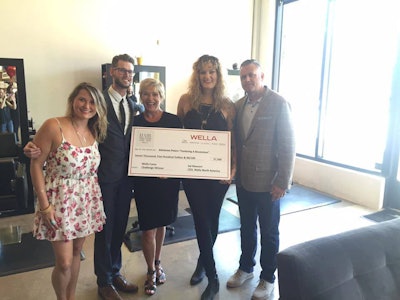 Wella Professionals has announced the three Prize Winners of the 2016 #WellaCares Challenge - grand prize winner, Adrienne Peters (pictured, above); second prize winner, Mandie Barnes; and third prize winner, Stephanie Gearheart. Each will receive $7,500, $5,000, and $2,500 respectively for their dedication and commitment to charity-related efforts.
Grand prize winner, Adrienne Peters, from Revel 8 Salon & Spa, was awarded $7,500 for her work on Fostering a Revelation. Fostering a Revelation is a movement that was started at Revel 8 Salon and Spa, and is a program that takes children who are aging out of foster care and brings them into the salon Revel 8 salon family. Adrienne is able to mentor them through hair school, making sure all expenses are covered during their training, as well as the beginning of their careers. Upon completing hair school, the students enter into a 18-month internship and finally become a full-time stylist at Revel 8 Salon & Spa. Adrienne plans to use the award to help grow the movement throughout the industry, allowing other salons the opportunity to serve their communities and grow the hairdresser community by helping provide the best education possible. "I have been so blessed by the benefits that come with being a hair stylist," Adrienne says. "I only hope to share that with the children in my community who need not only a career to take care of their financial wellbeing, but a family to care for their emotional wellbeing as well. That's what we are at Revel 8, a family."
Second prize winner, Mandie Barnes, from Avenue Salon was awarded $5,000 for her work with Haircuts for the Homeless, a charity event that provided people in need with haircuts. Mandie, along with her salon family, used their day off to host an event where they gave those in need free haircuts as well as socks, mittens and food. With the award Mandie plans on hosting a similar event but on a larger scale. "I'd like to not only give free haircuts in downtown Salt Lake City, but I'd like to get shampoo bowls so we can actually wash their hair," Maddie says. "I'd like to give out fresh clean shirts, and of course food. With the prize I was awarded I feel we can reach a lot more people and do more than we did last year. I am incredibly grateful for this opportunity to do more for my community."
In addition to Adrienne and Mandie, third prize winner, Stephanie Gearheart, from Prime Designz Salon, was awarded $2,500 for her work with The Daisy Project, a charity that provides children with disabilities an equal opportunity to participate on playgrounds by installing adaptive equipment. Stephanie and her salon have participated in cut-a-thons, and booth events where 100% of the proceeds went to The Daisy Project and were able to attend the cutting of Let Them Play playground which included adaptive playground equipment, such as a wheelchair-accessible swing set and auto-sensory equipment. Stephanie plans on donating her award to The Daisy Project. "My dedication to improving the lives of children with disabilities will not stop with a swing set," Stephanie says. "We recently committed our fundraising efforts to purchasing an adaptive merry-go-round so children can ride along with their siblings and parents; together we can make a difference."
The next #WellaCares Challenge will commence in the Spring of 2017. For more information and updates, please, visit www.HairdressersAtHeart.com.