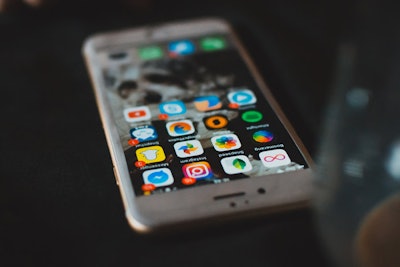 You've been using your favorite brand's color for years. You tout how great it is to everyone who will listen—boring your poor clients to tears in the process. Your biggest dream in the world is to work with this manufacturer. Yet, so far, it hasn't even liked a single post you've done. What gives?
If you want to work with a brand—let alone get noticed by it—you'll need to keep in mind various factors. We have a few suggestions on how you can get noticed and open up the doors of communication. Who knows? Maybe you'll be its next brand ambassador!
RELATED: Instagram Tips for Creating Content to Attract Clients
Make sure your work aligns with the brand's identity. If the manufacturer you want to work with is best known for its bright, vivid colors and you're posting a ton of neutral colors, don't be shattered if you're not reposted. In fact, Olivia Smalley discussed this very topic on a recent IG takeover she did for Beauty Launchpad. "You can create content however you want to create content," she said, "but if you want to work with a specific brand, you want to create content that it's going to post. Your content has to emulate the brand's content."
Detail how you achieved the look. While you can simply type in your post, "Used XYZ," it means a lot more if you detail the steps you took to get to that look, including actual products used. Brands want to know you not only like their products, but that you're knowledgeable about them, too. They want to see that you know what you're doing and can demonstrate why their products work. This not only alerts manufacturers to your love of their brand, but also shows them that you're sharing your love and influence with your audience, which is extremely important. And remember, it doesn't really matter anymore how many followers you have. In fact, the latest trend in social media marketing is working with nano-influencers—users with 1,000 to 5,000 followers.
RELATED: How to Write a Winning Instagram Bio
The game of tagging. Tagging the brand in your posts is the single easiest way for it to find your content. And make sure that you use all the hashtags the brand uses. For example, if you want to work with Truss Professional, make sure you're tagging #crazyfortruss, #inbeautywetruss and #clubtruss, in addition to #truss and #trussprofessional. The first three are actually mentioned in the company's bio; you'd better believe it looks to see which posts with those hashtags are performing the best. Hashtag product names as well (#airlibretruss, for example). Also, make sure you tag the company in the photo itself, not just in your post. This makes it easier for the brand to see your tag, especially if it doesn't happen to be online when you post.
Engage, engage, engage. Last but certainly not least, make sure you're engaging with the manufacturer on the regular. Like its posts and comment on them, engage with its brand ambassadors, and respond to its IG Stories—all of this will help increase your visibility, which will only strengthen your chances of working with the brand in a more meaningful way in the future.
This story first appeared in the May issue of Beauty Launchpad magazine. To receive the magazine, click here to subscribe.