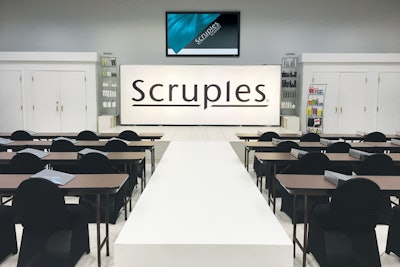 All stylists know that trends are constantly evolving—the challenge is staying ahead of these tress shifts. Enter Scruples education, designed to give hairdressers an edge when it comes to fab looks found in magazines and on social media. "Our courses relay in-depth product knowledge while also arming hair artists with current techniques to remain competitive in today's marketplace," discloses Amie Goltz, VP of education. Case in point: Training for Tomorrow and Global Artistry Design, two of the brand's most innovative offerings. The former is also its longest running, with more than 100 classes taught to date. It kicks off with a welcome cocktail party followed by three days of events including live model demos, runway shows and hands-on instruction. The latter elucidates design cutting, aka the practice of custom-fitting each snip to head shape based on bone structures, growth patterns and hairlines. "Students further learn color placement, focusing on accentuating facial features, skin tones and eye colors," Goltz reveals. Both are taught several times per year at Scruples Academy, located in Lakeville, Minnesota. Says Goltz, "Our program gives stylists the opportunity to make professional connections while putting practice into action." 
RELATED: Celebrities Set the Tones for This Year's Hottest Hues
Costs
$195 Training for Tomorrow
$695 Global Design Artistry
Schedule: scrupleshaircare.com/events/list
Sneak Peek 
What: Social Stylist Show series, featuring a trio of influencers who join forces to showcase styling, creative color and social media techniques.
Who: @ryan.weeden, @kristinacheeseman, @antestradahair
When: First event kicks o in Tampa, Florida, on September 9—with more to come!
RELATED: ​Blonding Techniques to Help Your Clients Look Their Best No Matter the Season
Additional Education Opportunities
Field Academy
In the field, Scruples distributors o er over 20 look-and-learn classes with various focuses at locations nationwide.
On-Demand Digital Education
Free content posted monthly on Scruples' YouTube channel.
[Image: Courtesy of Scruples]