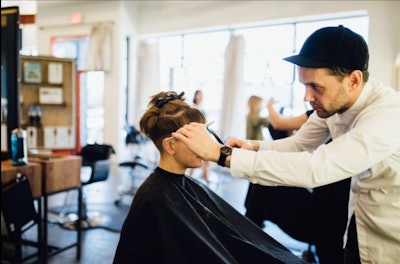 Without a doubt, the most challenging task in this business is creating a solid guest list.
Particularly in the beginning, you may feel that you just need to take what you can get in your chair, regardless of whether or not you actually enjoy doing that type of hair or not. And in the beginning, you're right. Sure, the granny that wants a shampoo set might not be the creative outlet you're looking for, but she might have a 19-year-old grandchild that is your ideal client. Always take the opportunity to market yourself. 
My Education Director, Andrew Carruthers, recently had an enlightening conversation with Brian Hickman, stylist at Local Honey (Nashville, TN), about how Brian crafted his dream clientele. This guy has it figured out, and you're going to love what he has to share with us.
Andrew: Brian, we rarely see stylists that not only have an incredibly strong guest list, but one that's filled with the kind of hair the stylist prefers. What steps did you take to design your clientele?
Brian: It really all started when I moved over to Local Honey. It was quite unintentional. I had just moved from a salon that I had been doing "pretty hair" for a long time, and it felt like factory work to me. We were just starting our apprentice program, and I was coming into a role that I wanted to practice and sharpen up, and I had some extra time. I decided I would start doing models every Wednesday to practice and photograph my work to start a social media account. Then amazingly, after a while, people started responding. People would come for a first haircut and want a makeover. I was getting a wide verity of different types of people and cuts.  I am very grateful for it.
Andrew: So, by investing time to do these photo shoots and then putting them out in the social media world, you unintentionally started to be the designer of your clientele!  You told me recently that your books have just exploded since you started to show the hair that you truly love and most of the new clients are asking for that style—so simple but so effective.  What are some of the "old rules" you have broken and found success in?
Brian: I think the big one is; don't give your services away for free. I've found that if you give it away, it will come back to you. Meaning, do free work that you want to be doing, post it and people will see that you can and want to be doing that kind of work and come pay you for it. I used to go to great classes and then wait for the perfect client to practice it on, but sometimes they never came. How will people know you can and want to do your favorite types of work if you don't put it out there?
Andrew: That's so true! I think most of us were taught that you never give services away for free, but you've found a way that you get a big return for that time. And you don't just take a quick snapshot of your work, you very thoughtfully create beautiful images and now you're producing these super interesting 60-second videos too. What goes into that process?
Brian: With the photos, we have a few great spots with natural light and recently a well-lit photo room.  In posts, I'll do minimal light touch ups and usually cool down and brighten up the pictures. With the videos, I've really enjoyed making stop motion in an app and recently loved having someone film my haircut process and piecing them together on iMovie.
Andrew: So it's an investment of time, but it sounds like you're having fun too.  Even without looking at the text on an Instagram post, I can always tell what's your work. It's not just the photo and video style, you've really crafted your own aesthetic as a hairdresser. How did you develop that?
Brian: The basis of my work started with Toni & Guy for my foundational basics and then Bumble and Bumble for developing my eye. But, I think only in the last few years (I'm about 20 in) I've finally developed my own perspective. A big part of that was booking time every week to practice on "models," which were people I found cool or interesting, and taking pictures after. That way, I could practice things my clients weren't going for at the time, critique my work better with the pictures, plan for what I might change the next time and put those pictures on social media to attract more models and clients that want those types of cuts.
Andrew: Brian, thanks so much for taking the time for this. I think a lot of hairdressers are really going to feel a connection to your story and be inspired to do something different.
What we discovered from Brian is something so simple: do what you love simply for the love of doing it and the rest falls in place. Be willing to practice your craft outside of the daily salon clientele and share it with the world. Your investment in yourself will find it's way back to you!
Aspire for more!
Sam