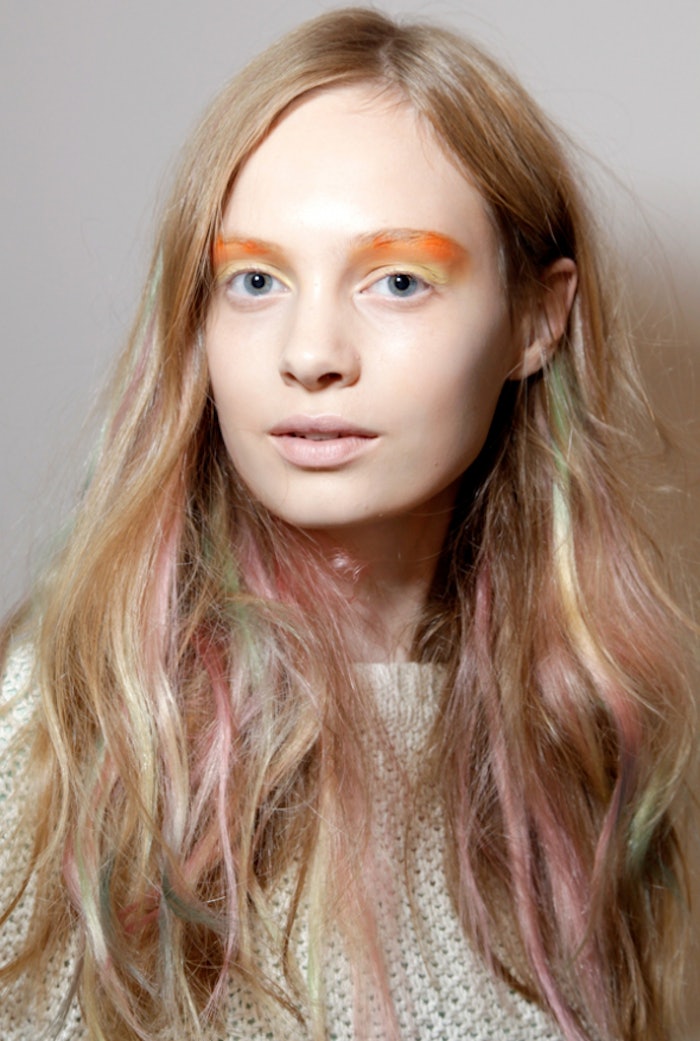 At Peter Som's Spring 2013 showing, the beauty is all about "classic East Village cool girls: natural, easy hair with touches of faded color, and strong, bold yet sophisticated eye colors," says the designer. His theme, "Women on the Verge," evokes that tipping point where a lady just might crack into a million little pieces. Is the beauty as fragmented? Most definitely.
"This is about good clothes with bad hair," Wella Professionals hair lead Eugene Souleiman jokes with me. (He must be joking, because I adore this hair!) "The style has unnatural colors that have a little bit of a dirtier feeling. The haircolor is sort of patchy and broken, and the hair has this natural texture—rawer, beachier."
To create this organic finish, Eugene mists dry hair with Wella Professionals Ocean Spritz to lend grit, and then applies Wella SP Hydrate Finishon the ends. He twists the lengths into a loose knot, allows the hair to set, and then releases the knot before the girls hit the runway to create tumbling random waves that he hand-combs for further fragmentation.
The haircolor, a rainbow of metallic pastels fused with hints of bright, reflects "a rich girl gone bad," says Wella colorist Aura Friedman (who, might I add, is sporting the coolest forest-green streaks). "The color is meant to look dusty, disheveled and faded."
For makeup, MAC makeup lead Tom Pecheux sources Valley of the Dolls, but says he's also focusing on keeping the look innocent and almost child-like. "We're applying the color imperfectly; it's like a child's mind—not too studied," he says, noting that Peter's own innocent approach to fashion and life sparks this direction. Makeup is kept minimal: no blush, mascara or brows. The eyes become the highlight, with models receiving different duo-tones: blues, greens, oranges, reds. "We're using MAC Pro Paint Sticks and applying them with our fingers to get this ombré effect," he says. He applies yellow MAC Pro Paint Stick in Sunshine (available spring/summer 2013) from lid to crease and then a pastel color (achieved by mixing in MAC Pro Paint Stick in Pure White) from crease to brow. A final finger-dot of MAC Pro Landscape Green and Marine Ultra Paint Sticks directly above the eyes lends the lids a painted-on effect. Nude lips in MAC Mineralize Rich Lipstick Luxe Naturale (available spring/summer 2013) complete the look.
Nails are a play on the classic French manicure, with limited edition Zoya for Peter Som polish hues in crisp mint Neely (the base) and creamsicle orange Sharon (the tip) reflecting a "classic woman with an edge," says Zoya's color expert Rebecca Isa. "These polishes have a white base, which makes them cleaner and more lively." The perfect feel for spring, in other words. —Karie L. Frost
(First image: courtesy of Wella Professionals; all others by Karie L. Frost)
Other New York Fashion Week Spring/Summer 2013 Collections: Joanna Mastroianni |  Timo Weiland | Monique Lhuillier |  Christian Siriano |  Rebecca  Taylor | Band of Outsiders | Suno |  Houghton  |  Charlotte Ronson |  Monika Chiang  |  Tadashi Shoji  |  Costello Tagliapietra |  Honor |  DKNY |  Derek Lam  | Top New York Fashion Week Hair Styles