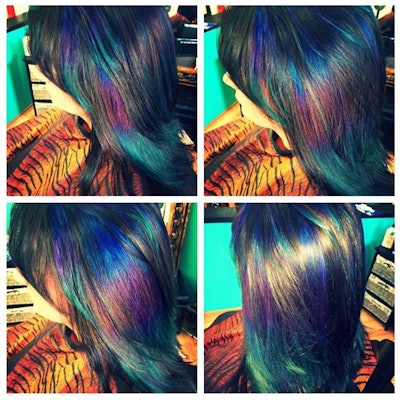 Outlandish colors and hair designs have been more popular than ever. They have even started to trickle their way into my salon, which is located in the conservative town of Lexington, South Carolina. PRAVANA makes a wonderful line of color for those special clients that aren't afraid to step outside of the box. I absolutely love the VIVIDS color line PRAVANA has come out with. When applied in the right manner you can achieve a rather tasteful outcome. Don't try this at home or you may end up looking like an experiment from the Willy Wonka Chocolate Factory.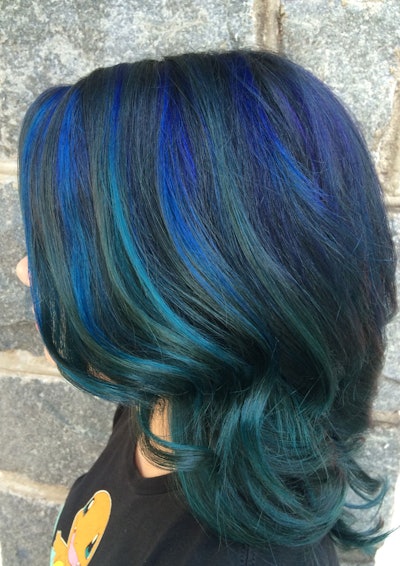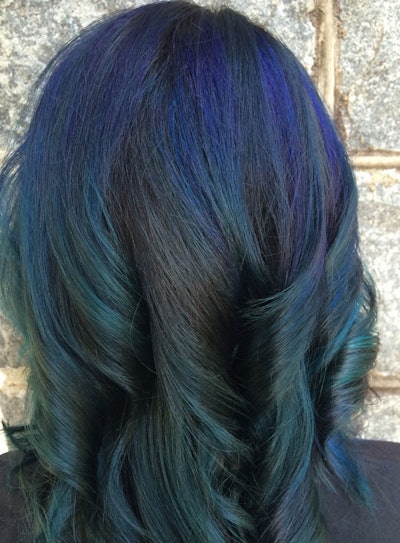 I am always excited to use these colors on my clients and sometimes a little jealous that I don't have the nerve to try them myself! I got to do this peacock hair color on two separate occasions and have been asked to share this formula with you. I used a color melting technique to achieve a smooth transition from color to color. I started with blue at the root on highlighted sections throughout the hair. Then brushed in the purple and green, slightly overlapping each color but not so perfectly that you could see a distinct line of where one color ends and another begins. Make sure there is a nice blended effect from color to color. If you wash these colors out with warm water they will bleed nicely onto one another, which was the desired effect in this case. If you want your colors to be separated with distinction, rinse with cold water in sections carefully. You can even apply a barrier of conditioner or cholesterol on highlighted hair that isn't intended to be colored, to ensure that the colors will not fade onto one another.
The best part about doing these types of color services, are the clients that let you experiment and play. Creative types are usually open minded to new ideas, so don't be so afraid that you will mess up! Just remember to have fun, do what you love and love what you do, and hopefully they will love it too!