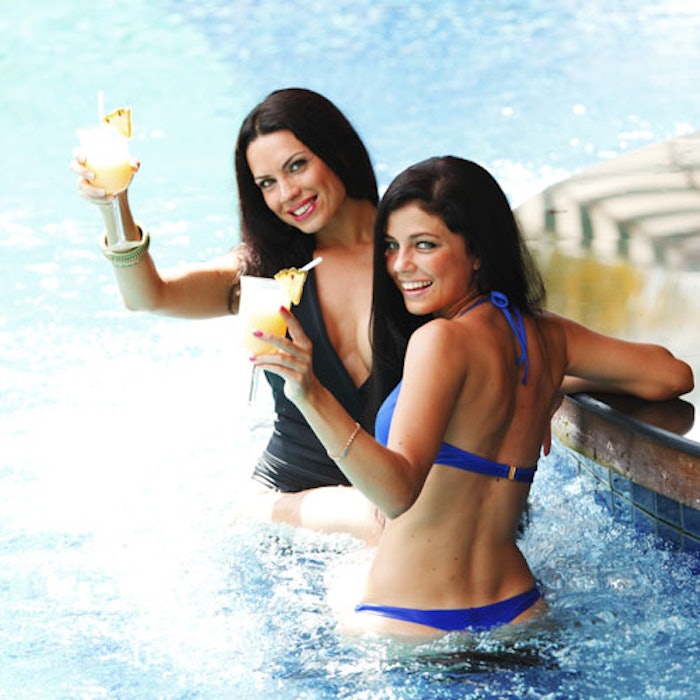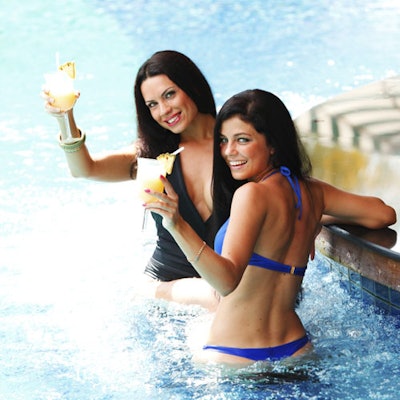 I've been spending a lot more time in Las Vegas these days. I opened Sam Villa's HairShow Blowout Bar in February and, as many of you know, opening a salon is the easy part - making it a success is the hard part. HairShow is located at LOOK Style Society, a new one-stop shopping beauty boutique offering specialized hair, skin and nails services at Town Square Las Vegas. I am so intrigued by the blow out bar trend, it's an evolution of traditional salons that provides fast, convenient, professional services that are very fitting for today's busy lifestyles. I was really excited to get involved and it's been such an amazing learning experience.

Why Vegas? It's full of clients who want to look great for their vacations, weddings and special nights on the town. It also has an international market that wants to be pampered and has the money to do it. What I didn't know about was the popularity of Day Clubs - Vegas is full of them.  

A Day Club is basically like a pool party on steroids: sun, cabanas, loud music, alcohol and people mingling around swimming pools wearing close to nothing. So, I figured why not capitalize on all these people? After all, they all want to look their best, and I can help with that.

We're going to create pop-up styling bars offering up-dos, braids, curls, texture and more, to give women a little taste of what Sam Villa's HairShow has to offer. It's great advertising and a good way for our stylists to network and spread the word about our new salon. It's also great material for social media outlets. I mean, it's Vegas, people want to look hot, and we can do that for them with poolside pampering and daytime indulgence that can even sometimes get them through the evening. I recently did a TV segment about summer hair (http://s3.amazonaws.com/TVEyesMediaCenter/UserContent/45331/3475018.8000/KVVU_05-22-2014_09.28.34.mp4) and highlighted a tying technique that looks like a braid and serves as a set for the evening. We'll probably share it at Day Clubs. I refer to techniques like these as "simplexity" - simple tips that deliver complex results.  

We'll also be offering slicked styles. The wet look is such an easy trend to create - you just have to make sure to use a styling product that stays pliable and doesn't flake.

Steps for a Super Polished Look:
Smooth wet, towel-dried hair with the Sam Villa Styling Brush.
Rub Redken Water Wax 03 Shine Defining Pomade into hands to warm and distribute evenly trough out hair.
Style into a ponytail, band or clip and let dry.
For added gloss, finish with Redken Shine Flash 02 Glistening Mist.
Steps for a Textured Wet Look:
Apply Redken Stainwear 02 Prepping Blow-Dry Lotion and dry hair as usual to about 75% with the Sam Villa Professional Ionic Hair Dryer.
Mix Redken Move Ability 05 Lightweight Defining Cream Paste and Satin Wear 02 Prepping Blow-Dry Lotion in hands for the ultimate cream-paste texture that's low-tack and easy to spread.
Events like these Day Clubs offer opportunities to converse and consult with prospective clients. Feel them out regarding likes and dislikes about their hair, as well as the types of services they desire. It's also a great learning opportunity – provide them with easy ways to style their hair at home, like a simple braid set that delivers beachy texture. Advise this: Spray hair with Redken Curvaceous Wind Up, braid hair and sleep on it. In the morning, take braids out and run fingers through. Take the bottle to the beach to recharge curls throughout the day - just spray and scrunch for instant texture. Tips like these are a great way to connect with a prospective client. If they like a technique you gave them at an event, they just might give you a whirl in the salon.

At the Day Club events, we also plan on sharing hair color protection tips, as this is a main concern for many women in warmer weather. We might even give away sample sizes or offer Redken Color Extend Shine Enrich – it has UVA and UVB filters for anti-fade protection and to seal split ends. I also advise clients to put 4 drops of Redken Satinwear 02 in an 8oz water bottle and spray on hair before hitting the pool. It helps seal the cuticle so hair doesn't absorb as much chlorine or salt water. It also adds a luxe shine.

And don't forget about the bling! These women may be poolside, but in their head they're on stage, so make them feel special. Pink Pewter (www.pinkpewter.com) makes beautiful jeweled headbands that light women up – pretty enough for the pool, yet special enough for the evening. France Luxe (www.franceluxe.com) makes bands, clips and combs from colored/patterned plastics that are perfect for the pool. Retail, retail, retail - accessories are the perfect add on!

There are Day Clubs everywhere, look into finding one in your area and have some fun marketing your salon. And if there aren't Day Clubs, stick to Night Clubs. HairShow did a Braid Parade at a gifting suite at Ghostbar at the Palms in Vegas this month. Guests drank champagne, danced and we braided our hearts out! Guests also had access to purchasing tools at a discount and learned more about HairShow and what we have to offer. And, in addition to posting all the images and video to our social media outlets, Ghostbar also posted them which really helped to increase our exposure!
 
So get out there and make your own success! Here are some tips to help get you started - share them with attendees at events or clients in your salon. Either way, you'll have fun building your business this summer.
 
Protect: Oils like Redken Diamond Oil Shatterproof Shine are light and deliver restorative and protective properties that maintain optimal health and control during the summer months. Perfect for 2nd and 3rd day hair and great for adding shine.
Set: Take advantage of the braid parade - tame hair poolside by braiding and then remove the set in the evening for casual curl and texture. Can it be any easier?
Temperature: Don't crank thermal tools up during the summer months when hair is fragile. Instead, stick to medium and color treated temperatures. And, slow down to speed up – slow down the pass with the iron so heat is directed to the sections of hair that need to be altered. It prevents unnecessary wear on hair and styles it much faster.
Spray: Hairspray is a women's best friend, especially in summer when humidity and fly-aways are a factor. Redken Fashion Work 12 Versatile Hairspray is formulated with Vitamins C and E to protect hair and prevent color fading, and it provides 24-hour humidity resistance and 8-hour control.
Shine: Blondes tend to be less shiny than darker hair hues. Pump up the gloss with Redken Shine Flash 02 Glistening Mist  - it has Vitamin B5 and camelina oil to boost hair's natural shine and control frizz for an ultra polished look.

Aspire for MORE!
-Sam