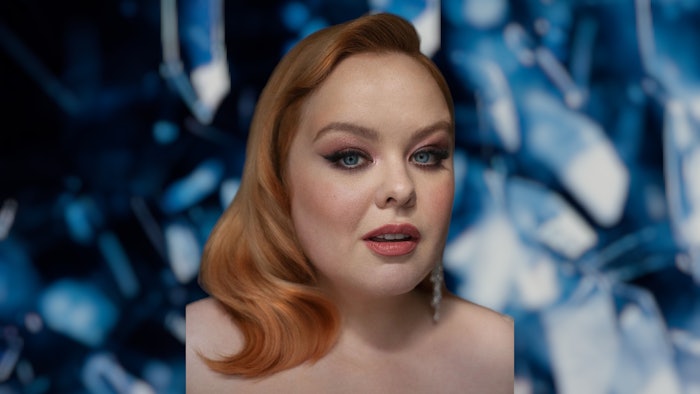 Courtesy of Halley Brisker (@halleybrisker)
Diplomat Barbie Nicola Coughlan dazzled at the London premiere of "Barbie." 
She wore a Wiederhoeft custom silver corseted gown, covered all over with Swarovski glass crystals. Jason Hogan (@mrjasonhogan) colored her hair red to match her character's locks in the film, and celebrity hairstylist Halley Brisker (@halleybrisker) styled Coughlan's hair for the night. 
Brisker used tools from Dyson to bring the look to life. 
"The Dyson supersonic hairdryer and Corrale straightener in fuchsia were the key tools used for this look. We also supplemented these with the Dyson flat brush, comb and round bristle brushes," Brisker shares.
If you want to recreate this elegant blowout for your clients, look no further. You can follow a step-by-step tutorial from Brisker below. 
How-To: 
 Begin by prepping the hair down from damp with the blow dry balm of your choice and create a sharp side parting just above the arch of the brow. Blow dry to smooth with the Dyson Supersonic Hair Dryer and Round Bristle Brush (small) in medium size sections from back to front ensuring all the hair/roots are given sufficient lift. The cool shot was used on rolled up sections around the brush to lock in the shine and shape.
Taking 2x2 inch sections, run a quick smooth pass over from roots to ends using the Dyson Corrale Hair Straightener and ensure a bevel is created with this process. After you complete this, roll each hot section up and clip into place to cool into a soft curl. This should be completed working from back to front and up towards parting on either side.
Once cooled, remove all the clips and gently brush the hair out and begin to work into a classic face framing retro shape. At this point it is good to play around until the hair begins to take the desired shape, this may take some brushing and re-brushing.
Once satisfied with the shape, using the Dyson Corrale Hair Straightener, enhance the flicks, bends and ends to really lock in the shape. This is where you can finesse the look, and the added heat will exaggerate the finish. Just pick out the key areas of movement and the shape on the ends.
Finish with a generous misting of a firm hold hairspray of your choice.