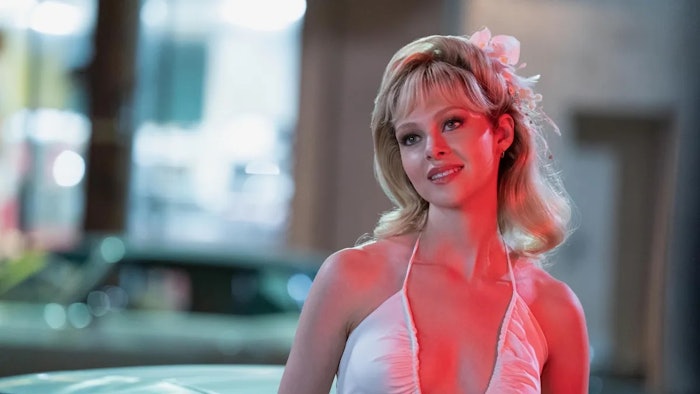 Photo Credit: Erin Simkin
Nicola Peltz Beckham, who plays the role of former Playmate and actress Dorothy Stratten in Hulu's new series Welcome to Chippendales, fully embodied the role. 
Emmy winner and lead hairstylist Barry Lee Moe created the '80s-inspired look the actress wore during the series using UNITE Hair products.
How to achieve the look: 
Cleanse and condition with BLONDA Toning Shampoo and BLONDA Daily Conditioner to maintain a cool, blonde tone.
Thoroughly coat damp hair with 7SECONDS Detangler to lock in moisture and protect the hair from unnecessary damage.
Apply BLOW&SET Lotion to the hair and comb through to evenly distribute.
Set the hair using 1.5" rollers and sit under the dryer. The hair along the face frame gets rolled in the same direction; starting on the left side of the face, roll the hair up and away with the roller parallel to the ground. On the right side of the face frame, roll down to the ground. This will create the sweeping motion of the hair from left to right. Everything behind the face frame will be rolled down, all rollers parallel to the floor. Leave the bangs out, and style those with a round brush later.
Once the hair is dry and cool, remove the rollers and brush out the set with a large Mason Pearson Brush to break it up.
Apply a small amount of BLONDA Oil to smooth flyaways and boost shine.
Next, work through the hair in small sections, and backcomb each section at the root to create a foundation for the style.
Once finished, smooth and detail the style to create the desired silhouette.
Then, use a small round brush to blow out the bangs. If you want more lift at the root, work the bangs side to side to get them to fall perfectly in place.
Finish the look with Lé:Play Hairspray for soft and flexible hold.