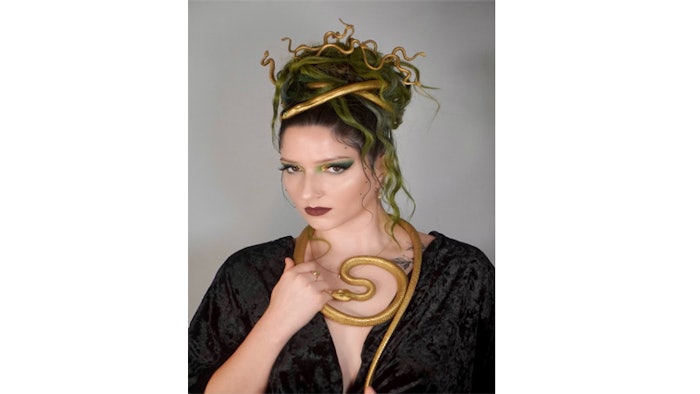 Courtesy of Sam Villa
Spooky season is not complete without whimsical Halloween hairstyles! If you're seeking some hair inspo, check out this Medusa-inspired look by Karla Valenzuela, Sam Villa ambassador and Redken artist.
Get the Look:
Apply Redken Water Wax 03 and smooth hair with a Sam Villa Artist Series Polishing Paddle Brush.
Gather a high ponytail and tie a butchers knot with sewing elastic to secure.
Wrap extension wefts around the ponytail and secure with pins.
Insert a large donut form by pulling the ponytail through the hole and secure with bobby pins.
Spray Redken Iron Shape 11 on all the ponytail hair for thermal protection and hold.
Wave hair by alternating between the Sam Villa Pro Results Single-Waver and Double-Waver to give a variety of texture.
Wrap hair around the donut form to create an oversized bun, leaving some strands hanging to show the waves.
Embellish the bun with rubber snakes from a craft store, sprayed gold.
Make "snake pins" by poking holes through the snakes and insert open-end pins through them.
Apply Redken Hardwear 16 to baby hairs and tendrils, then use a small detail comb to create a wave that frames the face and mimics the shape of the snakes.
Stick on small gems around the face-framing waves.
Finish with Redken Triple Take 32 for strong hold.