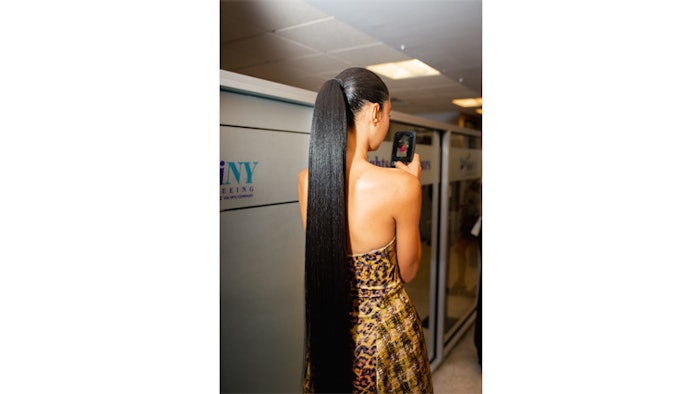 Photo Credit: Jeb Burroughs
Dylan Chavles and his team created the hair looks for the Gauntlett Cheng Spring/Summer 2023 New York Fashion Week (NYFW) show.
Chavles created a very long and full slicked-back ponytail to embrace the collection's theme of femininity.
The knee-length style also drew inspiration from the hair-adorned pieces in the line.
Get the Look:
Prep natural or curly textures with Run-Through Detangling Primer to soften hair.
Apply Très Set Structure Spray and blow-dry hair in the direction of a ponytail, smoothing any cowlicks or kinks.
Using Free Styler Working Hairspray and Superfine Hair Spray, brush hair back into a ponytail positioned at the middle of the head.
Tightly secure the ponytail with an elastic. 
Once the ponytail is in place, saturate roots with Superfine Strong Hair Spray and brush through.

 

On natural or curly textures, brush a layer of Curl Gelèe for Shine & Definition over the surface of the hair using a color brush.
A

dd

Très Set Structure Spray

to the ponytail lengths and create a smooth braid.

Secure with an elastic at the bottom of the braid.
Starting at the bottom of the braid, spiral a hair weft upward and around the braid, sewing the weft into the braid as you go.
Wrap to the top of the braid, stitching it in place one-inch from the elastic at the base of the braided ponytail.
Take a few more hair wefts and lay them on top of the head, covering the braided ponytail and sitting above the elastic at its base. Use clips to temporarily hold the wefts in place.
Using a four- to five-foot piece of elastic, bind the wefts to the base of the braided ponytail by wrapping the elastic until the hair is tight to the head, forming a long ponytail that completely covers the braided ponytail and extends to approximately knee level.
Remove the clips holding the wefts in place, and then cut off the exposed seams. They should be cut as close to the elastic as possible, so the ponytail appears seamless.
Spray hair with Superfine Hair Spray, gently brushing any flyaways into place.
Diffuse hair for one minute to ensure it is dry, using Rock Hard Gel to force any stubborn pieces into place.
Finish with a spritz of Royal Blowout Heat Styling Spray around the hairline for added shine.