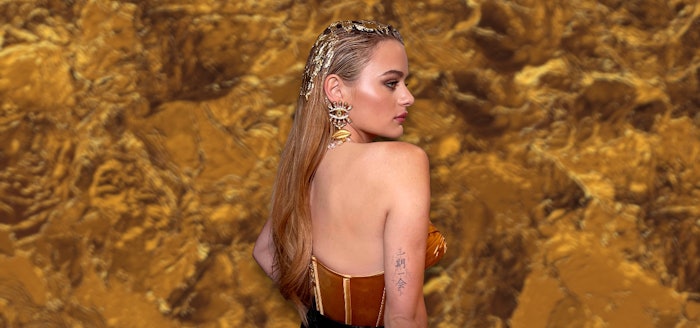 Courtesy of Uberliss
The Schiaparelli event in Los Angeles witnessed an extraordinary fashion statement as actress Joey King graced the red carpet in a dazzling golden outfit.
To complete her glamorous look, renowned celebrity hairstylist Dimitris Giannetos (@dimitrishair) worked his magic by keeping her hair simple yet adding a touch of gold. The result was nothing short of spectacular. 
Giannetos, known for his exceptional hair styling skills, began the process by ensuring King's hair would look perfect throughout the event.
Starting with towel-dried hair, he applied Uberliss's Frizz Elixir. This revolutionary product not only protected Joey's hair from heat damage but also kept it free from humidity, ensuring a flawless and long-lasting style. 
The next step in the transformation was a masterful blow-dry using a round brush. Giannetos meticulously worked to create a smooth and glossy base, setting the stage for the final, show-stopping look. To add a touch of sophistication, Giannetos used a 1.5-inch curling iron to introduce soft, elegant waves into Joey's hair. The result was a hairstyle that oozed elegance and grace, perfectly in sync with the high-fashion Schiaparelli ensemble. Once the curls were perfected, Giannetos brushed through the hair to give it a smooth and flowing texture.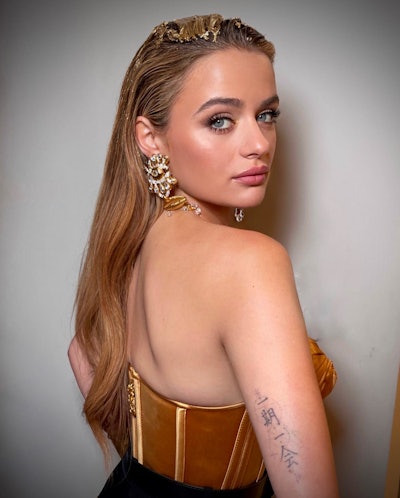 The final steps were all about adding a touch of gold to complete the look. Giannetos started from the front, carefully spraying the hairline with Uberliss Flexin Hairspray while simultaneously combing Joey's hair. This ingenious use of Flexin Hairspray not only added structure to the style but also ensured that it would remain flawless throughout the event. 
With the hair expertly shaped, Giannetos took the look to the next level. He applied additional Flexin Hairspray to adhere delicate golden leaves to the crown of Joey's hair, creating an ethereal and captivating accessory. To secure the golden accents in place, a quick pass with a hair dryer was all it took. 
The final result was a breathtaking, red carpet-ready look that fused high fashion with artistic innovation.