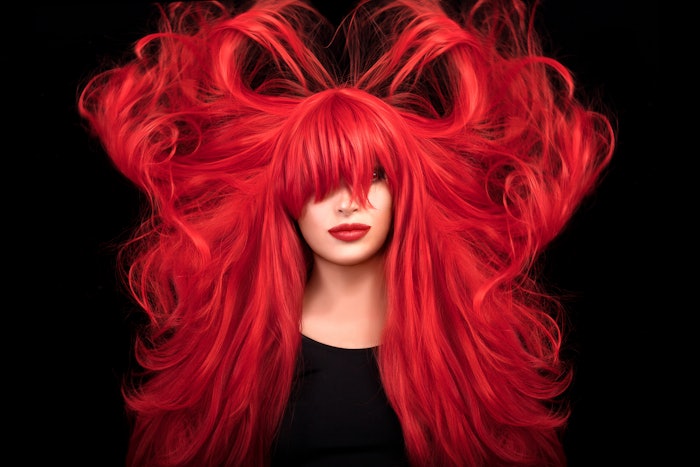 Courtesy of Casther
As we move into the colder cozy aesthetic months, long hairstyles and richer warm/bright reds are back on the rise.
This season, the focus is back on texture (style, cut and color) as well as emphasis on middle parts and elongated silhouettes. 
Celebrity hairstylist and International Color Creative Director for evo hair, Tom Smith (@tomsmithhd), is sharing his winter hair trend forecast, noting that we'll see a shift toward candy cane reds and softer browns, as well as longer hair styles this holiday season. 
Read on to see more of his predictions and the must-have products you'll need to bring these looks to life.
Neptune Wave
Countless celebrities including Serena Williams have been seen sporting these, flat 'S' shape waves, most often with a middle parting and lots of volume. Unlike the Botticelli Waves of last year, Neptune Waves are more fluid and stretched out, with thinned out ends and a fluffy silhouette. This style is most often seen on longer hair and the evo icon welder heat protectant spray is essential if working with heat tools to achieve this look.  
The Veil
This long hairstyle is incredibly easy for anyone with longer hair than their shoulders to achieve. Romantic, ethereal and statuesque, this is a great choice for those who like to wear statement earrings thanks to the hairstyle's framing effect. As seen on Olivia Rodrigo, a symmetrical face with a sharp central parting will work really well here. Use the tyler natural bristle teasing brush to achieve the perfect center part while adding a smooth shine.  
Candy Cane Red
Smith has been predicting the evolution into bolder, warm tones such as red and violet. This candy shade of true red is not a naturally occurring shade and so is best suited to those who are comfortable making a statement, as recently seen on Megan Fox. Non-naturally occurring shades tend to risk looking cheap if not meticulously well-maintained, but thankfully there have been wonderful advances in color maintenance products since this shade was last trending. evo Fabuloso Purple Red is a great choice to use as a color-boosting treatment to keep this acid shade intense and glossy. 
Beurre Brunette
This Beurre Brunette (brown butter) shade is a great choice for softening any potential harshness when wearing darker bases. This can also be a great way for those who have been mostly dark haired previously but are starting to see natural grey hairs making their way in. Adding lightness and dimension into the hair, while not necessarily covering the greys, will draw the focus away from them, making this an ideal choice for those wishing to work in harmony with their changing hair color, rather than fighting against them. As seen on Emma Mackey, the evo fabuloso chestnut color boosting treatment can help maintain that warm color blend. 
Trophy Blonde 
Half-way between Summer's Barbie Blonde and Autumn's Nepo Blonde, this tone is clean and clear with just a hint of gold but is heavily painted on with very little shadows or dimension. Seen on longer hair with soft movement, the success of this shade requires healthy hair to shine and glow. More is more. Purple shampoo should be avoided here, instead ensuring your hair is clean and fresh, using clarifying products such as the evo springsclean rinse to ensure maximum vibrancy.