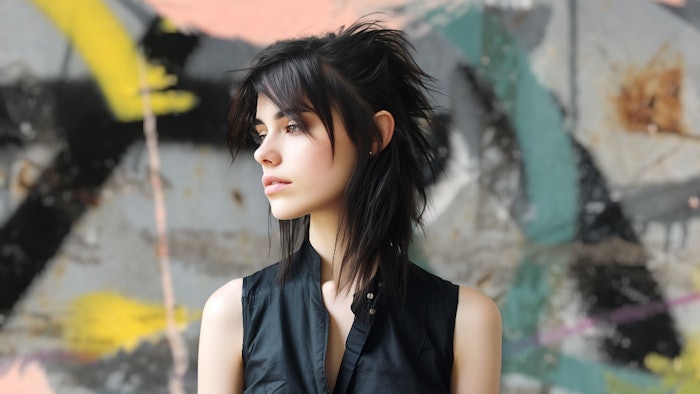 Courtesy of Eugenio Marongiu
The mullet is back in style! 
The mullet, an iconic hairstyle characterized by its short front and sides and long back, is trending on TikTok this month, with 82M views in the US in the last 30 days, and 13B overall. Gen Z are the most obsessed with this shaggy style, with 76% of interactions coming from 18-24 year olds. 
Experts at All Things Hair delved into Pinterest data to see exactly what mullet styles were trending and provide insight on the modern mullet trend. 
"The modern mullet is all about versatility. What was once worn by rockstars and bikers in the '80s is now becoming the 'it-girl' style of the year," shares Milena Prinzi, hair expert at All Things Hair. "From models to celebrities, it seems like someone new is popping up on our feed every day, debuting this cropped look. While it still involves the combination of short and long lengths, it is styled with less of a dramatic contrast between the two. It can be customized to suit various lengths, textures, and colors, making it adaptable for different hair types and preferences. This style is particularly good for emphasizing sharp cheekbones or adding length to a round face." 
Below, you can see four types of mullet styles that are currently trending and what sets each look apart. 
Feminine Mullet 
Most popular with 18-24 year old women, the feminine mullet has seen a 1,000%+ increase in Pinterest searches from last year. Like the traditional mullet, the feminine mullet features shorter hair at the front and sides of the head, often framing the face. However, the back of the hair is left longer and can extend to varying lengths, depending on personal preference.
Grunge Mullet 
This edgy mullet look has also seen a 1,000% increase in Pinterest searches from last year. In keeping with the grunge aesthetic, this hairstyle is often layered and tousled for a deliberately messy and disheveled look. Some people with mullet grunge hairstyles opt for dark or moody hair colors like deep brown, black or even grunge-inspired shades, like "plum" or "forest green."'
Goth Mullet 
A truly unique style, the goth mullet has grown in Pinterest popularity by 700% in the last year, mainly with young women. Some variations of the goth mullet include choppy or asymmetrical bangs, which can cover part of the forehead and add to the overall unconventional look. The goth mullet is typically paired with dark and bold hair colors, such as jet black, deep brown, dark purple or shades of dark red. 
Fringe Mullet 
The Fringe mullet has seen a 90% increase in Pinterest searches from last year. What makes this type slightly different is the straightness and long fringe. Fringe mullets often have a straight choppiness to them and are paired with overgrown bangs to emphasize the style.