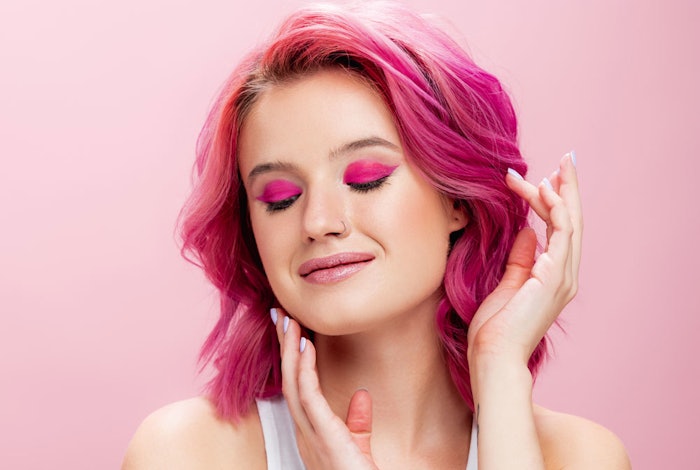 It's one thing to stay on top of the industry's biggest trends. It's another thing to flawlessly execute them for the clients in your chair.
In the second volume of its "What's Trending in Hair Color" report, Wella colorcharm interviewed two stylists from the colorcharm top artist team: Oliver Adams and Luis Rodriguez. Beauty Launchpad spoke with Adams and Rodriguez about tips for maintaining 2021's top hair colors, their go-to coloring techniques and what trends will last long after the warm days of summer.
Beauty Launchpad (BLP): From bold red hair to flirty pink hues, this summer's hair color trends include a lot of colors. What are your top tips for maintaining color and avoiding drastic fading?
Oliver Adams (OA): This summer is all about expressing yourself through color. You want to make sure that you are maintaining the proper moisture and protein balance first and foremost. Always use sulfate-free shampoo and alternate your conditioners with moisture and protein! Also, try co-washing every other week to prolong the vibrancy of your hair color. Post- and pre-color treatments are also recommended before and after your color application.
BLP: Can you speak more on achieving the chunky highlights trend on natural hair? What tips and products can you recommend? 
OA: Loving the return of the chunks! I am giving all my clients three-dimensional hair color all summer by alternating highlights and lowlights with high lift permanent colors and moisture-rich semi-permanent shades. I create chunks not only by foiling back-to-back but also by keeping a nice contrast between the low lights and the highlights.
Sample formula:
BLP: In the report, you talk about determining the skin's natural undertone. How can a client and/or stylist easily determine this? Any foolproof tips?
OA: There's a quick trick I use in the salon to show my clients what their undertone is. I have them put a piece of gold jewelry on and a piece of silver jewelry. Which looks better? If gold looks more flattering, you are likely a warm tone (orange/red/yellow). If silver looks better, you're likely a cool tone (ash, blue, violet). If both look equally good, you're neutral. 
Don't have jewelry? Put on a plain white t-shirt and go outside.  If your face looks yellowish or you *know* you would look better in an off-white or beige color, you're warm. If your skin looks rosy, you're cool. If you look good in white and cream colors, you are neutral.
BLP: From bold red hair to flirty pink hues, this summer's hair color trends include a lot of colors. What are your top tips for maintaining color and avoiding drastic fading?
Luis Rodriguez (LR): My go-to hair color line for these hues is Wella colorcharm PAINTS because they provide long-lasting results. To maintain color, I recommend using a sulfate-free shampoo—this is a great way to avoid drastic fading. Shampooing and conditioning with cold water are also good to make your color last longer. Another tip to prevent fading is to buy a pigmented shampoo and or conditioner. I like to make my own by mixing my PAINTS into my conditioner for that added pigment.  
BLP: What is your favorite coloring technique when it comes to adding striking shades to the hair such as pink or red? Any tips for clients looking to ease into a color transformation?
LR: My favorite technique is the melting color technique. Because when it comes to adding colorful shades, I like to apply the darker shade at the re-growth and melt it into the lighter shades towards the ends. For clients looking forward to a hair color transformation, I always like to identify their natural hair color and skin tone—is it in the cool or warm tones? This will help you choose the best transformation for your clients. 
BLP: Do you foresee these trends continuing throughout 2021 and beyond? Or are the fun, vibrant colors trending because of summer?
 LR: Highlights and fun colors are always in high demand through the summer. I think this trend is going to go through the rest of this year, and beyond. After the unprecedented time that we all recently went through, I feel like people decided to bring more color to their life, and honestly, I'm loving it!