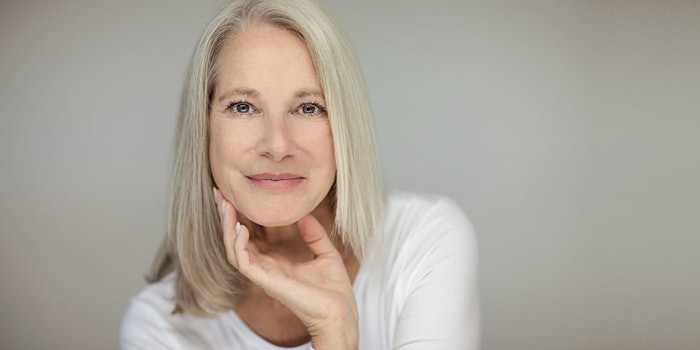 Not all clients want to cover up their gray. In fact, they may be contemplating returning their long-dyed hair to its natural gray state—but aren't sure how to go about the process or whether such a decision will "age" them. As with all things haircolor, there's a proper way to service these clients, and colorist Jack Martin, owner of Jack Martin Salon in Tustin, California, has mastered it. First, throw out the idea that restoring your clients' gray hair will negatively impact your business due to less root touch-ups. "That's an old myth," Martin laments. "A colorist is a salesperson. You have to sell clients on your services and yourself. When you turn a client to silver, she needs more products to maintain the color—which means more profit for you." Additionally, Martin believes colorists inspire loyalty when they give their clients a head of beautiful gray hair that requires less trips to the salon. "This transformation frees the client from the obligation to be in the salon every two to three weeks for her roots," he says. "She'll still come back for color every three to four months, but she'll also need trims, toning and conditioning treatments—all services you can sell her." In essence, she won't feel like a slave to her roots; she'll adore you for that fact alone.
So what do you need to know to successfully restore your clients' gray glory? Martin breaks down eight key elements of his process.
1 No Pressure
Clients need to come to you with the idea in mind—even if you think going gray is the best plan of action. "Never talk a client into doing this type of transformation," Martin warns. "The client definitely has to be ready, mentally and financially, because it's a big investment and a big commitment."
2 Consult, Consult, Consult!
"The consultation is a must," Martin stresses. "You can't book a client for a potentially 12-hour service by simply talking on the phone." Due to the pandemic, you might need to be flexible with how you administer your consultation. "Now, I do consultations via video chat or via pictures through email," Martin says. "But there's nothing like talking to a person face to face for such a major change."
During your consult, assess her hair history—past color (if you didn't do it) as well as hair integrity—ask about lifestyle, color goals and how willing she is to maintain her silver strands' luster, and talk about the type of products she'll need to use once she makes the commitment. "I also encourage the client to write down questions that come to mind prior to the consultation so I can answer them," Martin says.
3 Ease Them In
If a client mentions taking the leap into gray hair but feels hesitant, Martin recommends first doing a service that gets her comfortable with lighter hair, such as a partial highlight, face-framing moneypiece or, for more adventurous types, a full head of heavy highlights. "It's such a huge transformation, and this way she can see herself with lighter hair," he says. Or, send her to a wig store to try on several different shades of gray. "This way she can see if she will accept herself with this change. What shade does she feel comfortable in? Does she feel older?" Martin says. And, if you have the work to show, put before-and-after pictures of gray transformations on your social media. "Nine times out of ten, your client will find a transformation you did that she feels speaks to her needs," he says.
4 Be Honest
Some clients are better candidates for gray restoration. "This service works best with clients who have a greater percentage of gray than those who have only 20 percent of gray around their hairline," Martin says. Instead, a client who has a smaller percentage of gray would be a good fit for babylites, Martin suggests, because the gray blends enough to look like highlights. Hair integrity should be "decent"—not "perfect"—he advises. Thanks to advancements in hair lightening products, Martin allows that you can lift even the most damaged hair with less issues—but of course, you need to be honest and upfront with clients about how the process might impact their hair if it's not on the stronger side.
5 Block Off Time
Gray restoration demands time investment. Every client is different, but generally speaking, Martin says the service typically takes anywhere from six to 12 hours to complete. "You might have to remove pre-existing haircolor (level 5 or darker) with a color extractor, then bleach with no heat, pre-tone, tone and do conditioning treatments between each and every step to keep the hair moist and happy. It takes a long time, and you'll want to concentrate on that one client and not stress about the process," he advises.
6 Lift Slow and Steady
Make sure you lift your clients' hair to the palest yellow. "If there's any brassiness in the hair, the purple shampoo you send your clients home with won't be able to do its job," Martin warns. Go slowly; lifting the hair should not be rushed with heat. Use 20-volume to process—never 30.
7 Tone Smartly
There's a method to the madness of toner. "If you've lifted to pale blonde, which has some yellow, and you add a silver toner with a blue base, it can turn the hair greenish," Martin explains. Instead, neutralize any existing yellow using a violet-base toner first, then go in with the silver toner.
8 Outline Maintenance
The success of silver strands falls partially on your client and how well she maintains that gorgeous hue you created. Outline Martin's do's and don'ts to your clients, like washing with cold water to help the toner last, cutting down on heat, using blowdryers' cold button to dry hair 100 percent prior to styling with hot air and a round brush, and protecting tresses with conditioner prior to swimming. "Your clients should also avoid products that have yellow colorants in them because they can tint gray hair with a slight orange cast," he warns. Finally, retail them pigment-depositing shampoo and conditioner that will neutralize any warmth. "These are your clients' lifeline to amazing gray hair," Martin says. For ideas on gray-enhancing products that will grant your clients silver-fox status, read on.
While many of these tone enhancers brandish a "blonde" moniker, their formulas restore natural white and gray colors just as brilliantly as they do any towhead.
Goldwell DualSenses Silver Shampoo
This yellow-neutralizing shampoo brightens gray strands while ramping up shine with FadeStopFormula and Luminescine technology.
@goldwellus
Keratin Complex Blondeshell Debrass Masque
Used weekly, this moisturizing, brass-neutralizing formula replenishes lost essential proteins to bolster elasticity while it enhances natural gray luster.@keratincomplex
Malibu C Malibu Blondes Wellness Remedy
These travel-friendly packets can be used once weekly to deeply hydrate and strengthen coarse gray hair while encouraging serious shine. @malibucpro
@Guy_Tang #MyDentity #MyRefresh Silver Pearl Color Depositing Conditioner
Swapping purple pigment in favor of silver, this nourishing conditioner blends argan, olive and sunflower oils to smooth unruly hair as it pumps up gray tones. @guytang_mydentity
Eufora Beautifying Elixir Color Revive Blonde
This weekly treatment delivers an effective blend of ingredients deep into the hair shaft, allowing bright silvery tones to last longer and shine more brilliantly. @euforainternational
ColorDesign Arctic Blond Shampoo
Violet pigment combats unwanted yellow tones in white-gray hair as hydrolyzed silk, wheat bran and vegetable proteins leave coarse strands stronger and soft to the touch.@colordesignhair
Schwarzkopf Professional Goodbye Yellow Shampoo
Clients with severe yellowing will benefit from this pH-balanced formula's calibrated combo of purple and blue direct dyes, which elevates everything from slate-gray to ultra-white. @schwarzkopfusa
Zotos AGEbeautiful TopCoat Toner in Silver Ash
Process shampooed gray hair with Silver Ash for 10 minutes to nix unflattering warm orange undertones. @zotosprofessional
Nirvel Professional Nutre Color Gray
This corrective temporary color-depositing formula acts as an intermediary when transitioning to natural gray as it won't alter the hair's tonality. @nirvelprofessional_official
Surface Hair Color Shine Treatment
This 20-minute in-salon service amplifies gray hair by clearing away color-dulling free radicals and restoring natural luminosity. @surfacehairhealth
Wella Professionals Blondor Permanent Liquid Toner
Delivering nonprogressive color that won't over-deposit, these toners contain two hues perfect for gray clients—Pale Silver and Pale Platinum—plus a Brass Kicker that does as its name says. @wellahairusa
Pravana Vivids Color Enhancer Silver
Staving off split ends as it deposits sparkling silver pigment, this conditioning treatment seals the cuticle layer for ultimate light reflection. @pravana