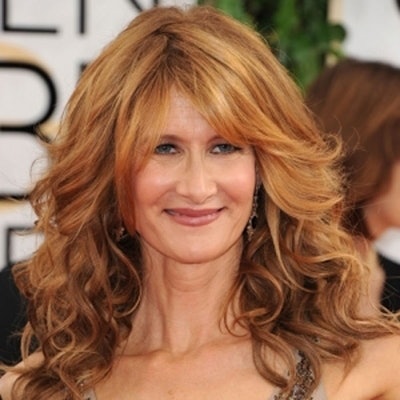 At this year's Golden Globes, Laura Dern arrived looking radiant and gilded from head to toe with an old hollywood glamour worthy dress and stunning new strawberry blonde waves. The Oscar nominated and Golden Globe winning actress was on hand that evening to present her father's nominated film, Nebraska, staring legendary actor Bruce Dern.

Laura's change in hair color for a warmer, deeper tone turned heads, looking elegant and complimentary to her golden dress. Vadre Grigsby, PRAVANA Artistic Color Director, recommends the below formula for a similar shade to Laura's hair as seen at the Golden Globes.

How to Get the Look:
Low lights: Equal Parts PRAVANA ChromaSilk 9.03 + ChromaSilk 9.04 + 10 Volume Developer. Process for 30 minutes.
Darker Base Color: 1/4oz PRAVANA ChromaSilk 7.45 + 3/4oz PRAVANA ChromaSilk 8.45 + PRAVANA ChromaSilk 8.42 + 10 Volume Developer. Process for 30 minutes.

Maintenance:
To maintain a beautiful, buttery shade of strawberry blonde, and keep hair healthy that has gone a few shades darker use PRAVANA's ChromaSilk VIVIDS Color Protet Shampoo and Conditioner ($19 each, 10.1 fl. Oz) The pH-controlled, protein-enriched shampoo helps seal in color as it gently cleanses hair and the conditioner employs a host of natural botanicals and proteins to deeply condition hair without the risk of stripping color.

Take a risk, no matter your age, and try a new shimmering, healthy color with depth this winter.
[Image: Getty Images]