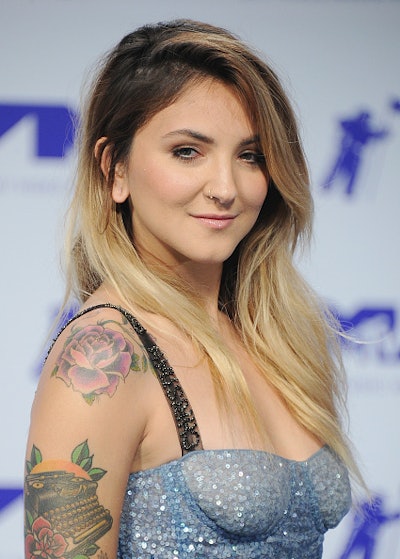 The 2017 Video and Music Awards were this past Sunday night. It's known for being a fun and edgy evening, so performers and artists alike rocked the red carpet in a trendy fashion.
TONI&GUY and T3 teamed up with Brian Fisher for Julia Michaels' look. As both a performer during the show and a Best New Artist nominee, the partnership with Brian and Julia embodied the TONI&GUY brand's idea of creating, showing and inspiring the bold in everyone. Julia's Best New Artist nomination came as a result of making a bold entrance into the industry with her music, and her hair had to be a reflection of that approach.
When creating Julia's red carpet look, Brian wanted a SoCal skater girl vibe to contrast her sequined dress. "I wanted her to be the most authentic and edgy version of herself," said Fisher.
To get this edgy, glam look, Brian started by prepping Julia's hair with TONI&GUY Sea Salt Texturizing Spray, spraying it liberally to her roots. He then gave her a scalp massage, working from the nape to the crown, while blow-drying using the T3 Featherweight Luxe 2i Dryer. This created both volume and texture. Next, he misted her ends with TONI&GUY's Heat Protection Mist and wrapped the hair in T3 Volumizing Hot Rollers, leaving the ends out to keep them straight and edgy.
After leaving the rollers in for about 30 minutes, he sprayed the roots with TONI&GUY Dry Shampoo to add volume and style. He then gave her another scalp massage for extra volume. He finished by waving the ends with the T3 SinglePass Luxe Flat Iron and spraying with TONI&GUY Firm Hold Hairspray.
[Images from Getty Images]