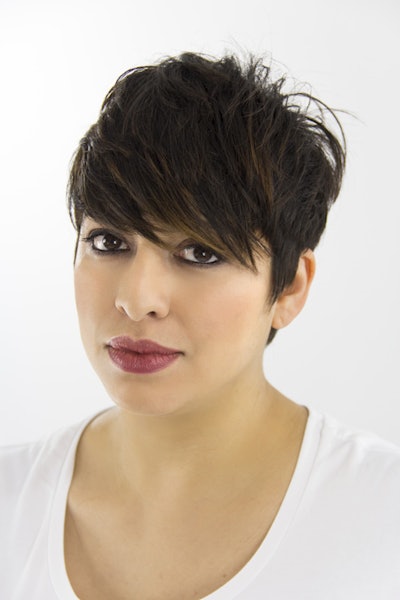 There is a reason Kristen Stewart, Ruth Negga, Zoe Kravitz, Rita Ora and others prefer a pixie now and then – this short, sassy power cut leaves nothing to hide behind. It screams confidence and makes a woman shine! Ruth Roche, Global Artistic Ambassador for Pureology Serious Color Care, shares a technique that combines using a razor and shears to achieve the perfect balance of length, weight and texture.
RELATED: How-to Get a Sam Villa Fishtail Braid Updo
Tips for Cutting a Short and Sweet Pixie
·       Roche suggests using a Sam Villa Signature Series Razor to cut the interior and fine tune with shears after drying hair.
·       When cutting around the ears, use only the tip of the razor blade to create a soft clean line.
·       Cut a curved line into the front sections by ears so hair can be worn forward or pushed back.
·       In top section, alternate cutting hair from short to long and long to short in vertical sections for a variation in length and texture.
·       Many sections will not connect  - long and short and blunt and feathered areas living together is what creates the unique texture and shape.
·       The bigger the section, the bolder the texture…smaller sections will yield softer texture.
·       To tighten the nape area, skim the surface with a razor.
·       Dry with Pureology Smooth Perfection Shaping Control Gel and Light-Weight Smoothing Lotion to add hold and slip for the fine-tuning with the shears.
·       Use a combination of slide cutting and notching with shears to finesse final shape and texture.
·       Finish with Pureology Color Stylist Density Definer and Cuticle Polisher for defined hold, shine and texture.
"This pixie is short and sweet – the nape is tight, soft length spills over in the back and the front and crown areas are short and textured," says Roche.
Hair by Ruth Roche (Facebook, Twitter, Instagram, Youtube, Pinterest)
Makeup by Bethany Townes (Website, Facebook, Twitter, Instagram, Tumblr)
[Images courtesy of Ruth Roche]