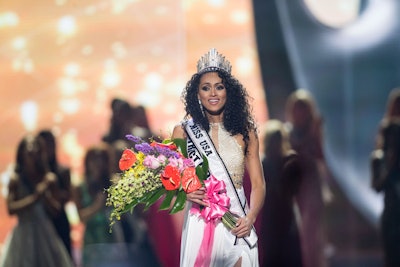 CHI was the official haircare sponsor for the 2017 Miss USA Pageant, so Farouk Systems Global Artist Albert Luiz was responsible for creating Kára McCullough's crowning look. Highlighting and amplifying her natural hair texture, Albert shared his step by steps tips and the key CHI products used to achieve her winning look.
"The new Miss USA came to Las Vegas with a plan!" Luiz said. "She wanted to win under her terms by staying true to herself and her natural hair texture! Before the pageant, we introduced her to the CHI Deep Brilliance Olive & Monoi Oil Optimum Moisture Line to help enhance her natural curl. Kára soon realized it was the perfect type of protection and moisture for her natural curls."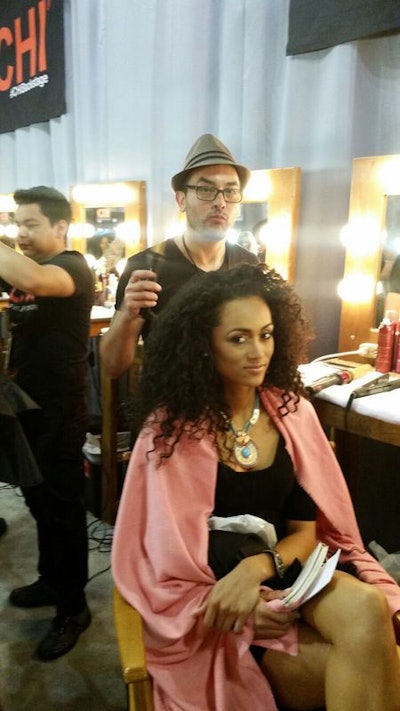 Prep:
Kára washed and conditioned her hair with CHI Deep Brilliance Olive & Monoi Oil Optimum Moisture Shampoo and Conditioner allowing her hair to air dry naturally.
Step 1 – First, I backcombed her parietal area with a rattail comb and sprayed the area with CHI Magnified Volume Finishing Spray to help hold the backcombing in place. This helped to add volume while allowing her natural texture to bounce freely as she walked.
Step 2 – To enhance her natural texture, I took 1/2" sections on the surface of the hairstyle and hairline spraying CHI Magnified Volume Finishing Spray at the base of each section. Then laying the hair over the iron at the root area to quickly dry the spray while the hair was being held up, this created immediate volume at root area.  Next, I pointed the iron in the direction I wanted the hair to go and wrapping each section around the small end of the CHI Air® Tourmaline Ceramic Curling Wand.  I then alternated the direction of each section wrapping and pointing the iron to create curls that did not look or feel "done". This technique ensures a random curl pattern and direction as not to completely change her hair's curl pattern and not curling every strand of hair. It is important to note that I left most her own texture as the foundation for her finished look and only curled the sur face of her hair and the hair around her front hairline.
Step 3 - After curling enough strands, I finger separated the curls and blended them with her own natural texture. To maintain the new curls' direction and volume, additional CHI Magnified Volume Finishing Spray was used.
Step 4 - To finish her crowning look, I sprayed the CHI Miss Universe Style Illuminate Spotlight Shine Spray throughout her finished hairstyle to not only enhance her curls and texture but to add additional shine and glisten from every angle on stage.
[Images by Isaac Brekken, courtesy of Miss Universe]