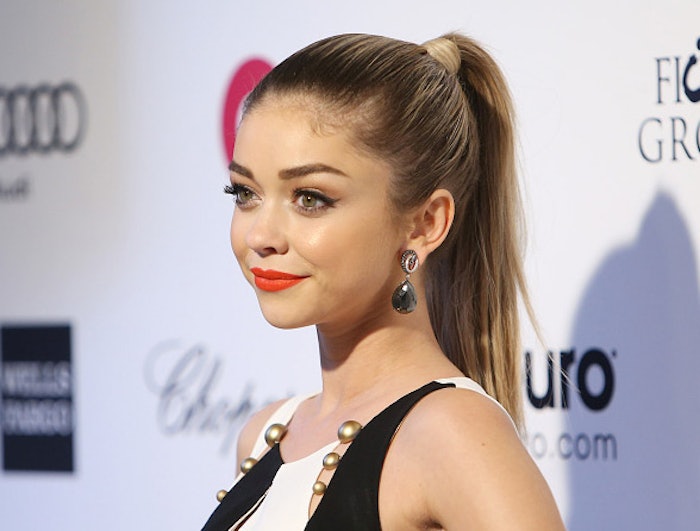 Celebrity hairstylist Ryan Richman created a simple-yet-sophisticated ponytail for actress Sarah Hyland for last night's Elton John Oscar Party. The high pony was the perfect look to keep her strands frizz-free despite the rain.
Get the Look:
Begin by spraying damp hair with Healthy Sexy Hair Soya Want It All 22 in 1 Leave-In Treatment. Comb the hair back away from the face to distribute the product evenly.
Using a flat boar bristle brush, blow-dry small sections of hair, starting at the nape and working the way towards the front of the head. Before blow-drying each section, add a pump of Healthy Sexy Hair Soy Renewal Oil from mid-length to ends for shine, moisture, and frizz control. Direct the hair back off the face towards the high point of the head.
After drying, go back through with a straightening iron to smooth the hair.
Using a flat brush, brush the hair into a high ponytail while spraying Smooth Sexy Hair Smooth & Seal onto the hair for enhanced shine and frizz control.
Secure the hair at the high point of the head with an elastic and conceal the elastic by wrapping a piece of hair around it, using a bobby pin to hold it in place.
Secure the look by spraying Big Sexy Hair Spray & Stay over the hair for extreme hold.