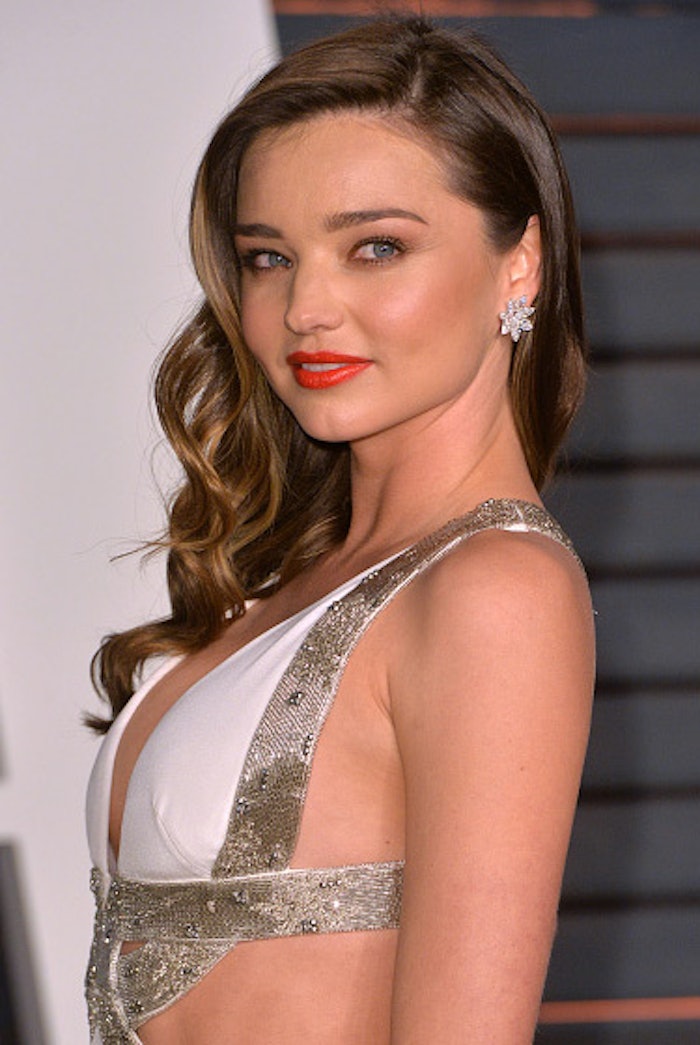 Celebrity makeup artist Lisa Storey used products from CARGO Cosmetics to create Miranda Kerr's glamorous look for last night's 2015 Vanity Fair Oscar party. "We felt inspired by the dress, which was custom Pucci, in cream with embellished edges and cut out sides plus a super low back," said Storey. "Miranda and I decided on a classy, 40's-glam-inspired look with a modern, radiant feel."
Get the Look (Makeup):
Said Storey, "On the skin I used a sheer cover of CARGO HD Picture Perfect Liquid Foundation, then applied the One Base Concealer and foundation where needed for a heavier coverage using the Magic Brush.
"On the cheeks, I began building a flushed look - first with the cream Colorstick in Santorini, then a dab on the apples of the cheeks with Powder Blush In Key Largo, and then a dusting on the cheeks above the brows and tip of the nose with BeachBlush in Miami Beach.
"For Miranda's sultry stare, I lined the eyes lightly on top and bottom with Swimmables Eye Pencil in Pebble Beach, and smudged it with a Magic Eye Brush to gently frame the eye.
"Then, using the Essentials Eye Palette, I applied Metro to the inner corners, adding Brownstone to the outer edge, again top and bottom, and gently sheering it out to create a deeper, soft frame around the eye. I contoured the eye socket with Rush Hour and highlighted under the brow with Uptown, finishing with the Triple Action Mascara in Black. I shaped the brows with a little more drama using the Eye Brow Pencil in Medium.
"The lips I lined with the Swimmables Reverse Lip Liner (love this product!), and to complete the look, I generously applied Essential Lip Color in Paris."
CARGO Cosmetics products are available at Ulta.com
Meanwhile, celebrity hairstylist David Keough (Celestine Agency) created "old Hollywood, Rita Hayworth-esque" waves for Kerr's walk down the red carpet. Though the look was based in classic glamour, Keough added a modern twist by brushing the curls out to create more volume.
Get the Look (Hair):
To begin, David washed the hair with Clear Intense Hydration Shampoo and Conditioner, and then dried the hair using the T3 Evolution Longlife Dryer.
Next, he created a deep side part and began to curl 2-inch sections of hair from root to end with the 1.5-inch barrel of the T3 Whirl Trio Interchangeable Styling Wand and pinned each to set the curl.
Once they were cooled, David then unpinned the curls and brushed the entire head out, creating large, soft waves.
To finish, he sprayed the entire look with a light hairspray.