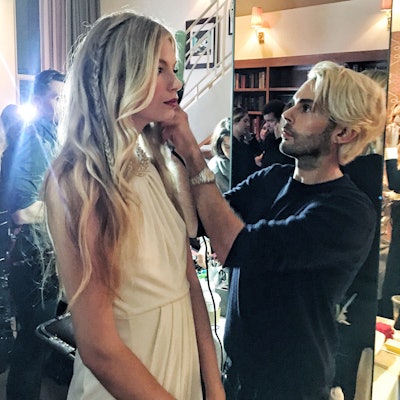 Rachel Zoe recently held her Fall/Winter 2017 presentation in Los Angeles, and Glam App was on hand to create the array of gorgeous hair and makeup looks before the models took to the runway. Glam App co-founder and celebrity stylist, Joey Maalouf, led a team in creating extra-long, effortlessly tousled waves for that perfect, carefree-chic look.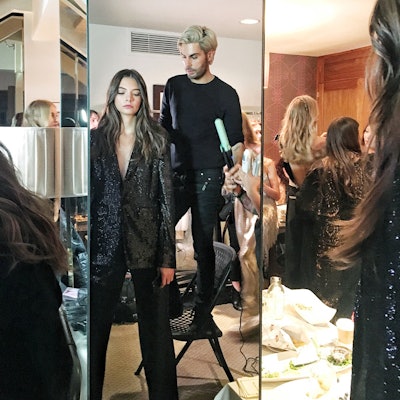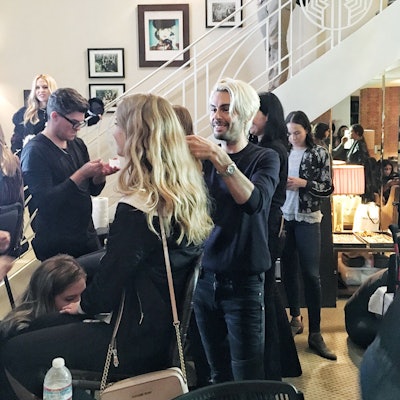 Recreate the gorgeous look with Maalouf's step-by-step how-to, below!
Get the Look:
"On naturally air-dried and parted down the middle hair, spray ends with Ouai Wave Spray, and tousle dry with The Dream Dryer, raking the ends with your finger tips," says Maalouf.
"Section the hair starting from the nap up, adding 10 pieces of Hair U Wear 20-inch clip-in extensions for length and volume.
"With every section of clip-ins, spray the hair using Ouai Soft Hairspray and wave the mid-shafts to ends of the hair using a 1.5-inch curling iron. Wave each section in the opposite direction, and leave waves in ringlets to set/cool.
"Before you hit the runway, brush the hair using a boar bristle brush to soften the texture of the hair and give it an effortless, 'undone' look.
"Throw your hair behind you — it's the new chic."
The Glam App is beauty on demand, offering services that range from blowouts, to makeup applications, or even a simple polish change. The app also acts as a virtual agency, allowing stylists to act as freelance artists, making their own hours, building clientele, and managing their schedules and appointments. For more information, please visit theglamapp.com.