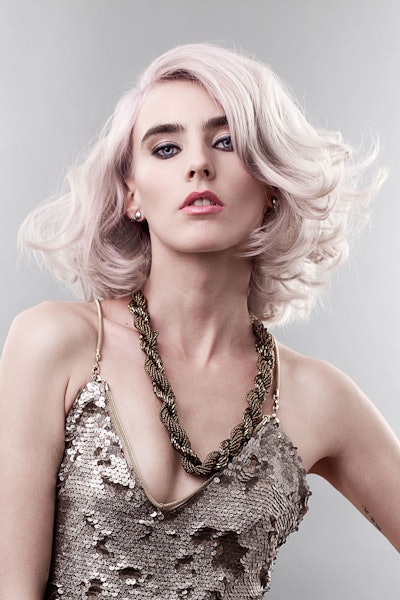 Ready or not, here they come…THE HOLIDAYS!  Whether it's an exciting time of year or a huge pain in the rump is up to you.  On the one side, it's an exhausting time of year filled with parties, family demands, overbooked salon schedules and little time to relax.  On the other side, it's a time for connection, giving, and making others feel special.  
I know, it seems impossible to balance both during the busiest time of the year for salons.  We're working our tails off and fuses are short, so finding the joy might seem challenging at times.  So, you have to set yourself up for success.  I know you've heard me say this before, but make it easier on yourself by having one solid go-to AMAZING holiday technique to make guests feel incredibly special.  Yes, add value and passion to their holiday service without killing yourself. It doesn't even need to be complicated.  I find that most people want to feel comfortable and still look like themselves, so mastering the technique of Blown Out Glam Curls and be the gift that gives to both you and your clientele.   
Blown Out Glam Curls
Prep damp hair with Redken Pillow Proof Cream Primer through mids and ends.
Blow dry in horizontal sections with the Sam Villa 1.5" Thermal Round Brush for maximum fullness.
Create a triangular section from above the outside edge of the brow on either side to the high point of the head.
Within the triangle take diagonal sections the opposite direction the hair will sweep and set half off base with a 1.5" curling iron. Mist each section with Redken Iron Shape 11 before placing the iron to protect the hair and hold the curl.
Below the triangle, set on base with a 1" curling iron again being sure to pin the sections to cool.
Once cool, rake through the curls in lower portion with fingers to create airiness and separation.
Brush out the upper triangle with the Sam Villa Artist Series Finishing Brush into a sweeping fringe floating along the curls below.
May your holidays be happy and bright!
--Sam
Image Credits: Hair/Sam Villa ArTeam; Photographer/Mitch Meyer; Makeup/Keri Hatfield; Wardrobe/Michelle Boucher assisted by Carmen Nydegger.