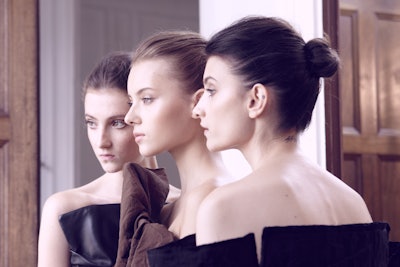 For the Carmen March S/S 2017 collection at Paris Fashion Week, Natasja Keijzer, L'ANZA Global Creative Director, created soft, pulled-back ballerina buns with a bit of texture to suggest dancers who had just finished a performance.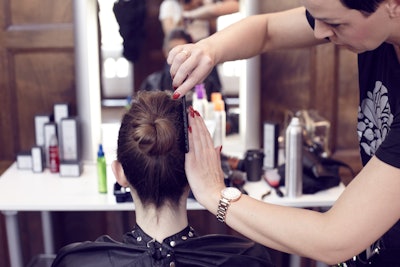 "To complement the modern elegance of the collection, the hair was strong yet feminine," says Natasja. "Pulled back from the forehead with no parts, the look was smooth yet lightly textured with twisted dancer buns placed at the upper middle of the head. The key to the look was the looser, slightly separated texture of the hair: fresh-looking and natural instead of tightly held back. We let a few small strands escape, not many, to underline the comfortable movement of the designs, and to look very slightly windswept."
Get the Look:
On dry hair, apply L'ANZA Healing Style Design Foam and work through for flexible support and body that looks soft and touchable.
Layer on L'ANZA Healing Style Beach Spray to give strands a slightly windswept, freer texture and to protect hair from the heat of the hairdryer.
Blow-dry with a paddle brush to polish and smooth hair, spraying occasionally with L'ANZA Healing Style Dramatic F/X Hairspray to lightly define and hold hair's texture.
Gather the hair into a ponytail at the top head.
Twist hair three times, pulling the middle part up for higher placement, and create a twisted bun.
Finish with a light spray of L'ANZA Color Illuminator Hair Brightening Spray to intensify hair color and add shine.