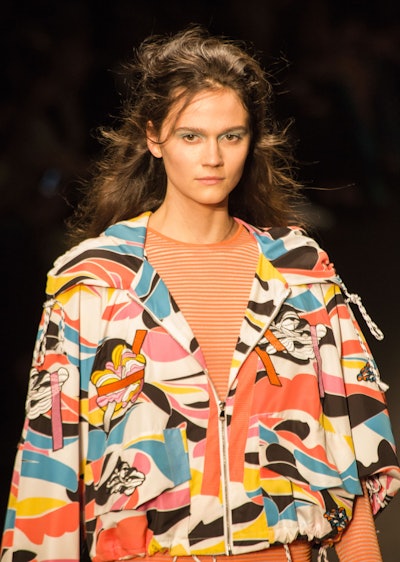 For the hair look at Byblos' Spring/Summer 2017 presentation at Milan Fashion Week, UNITE artist Nick Irwin opted for a sporty, gym-chic style to complement the collection's overall look. "The look for Byblos SS17 was a younger, sporty vibe," says Nick. "Clothes were inspired by late 70's early 80's ski wear, with color-blocking and an element of pop art. We decided to go with a look that was effortless but modern and youthful at the same time.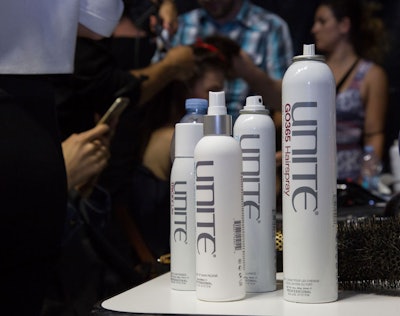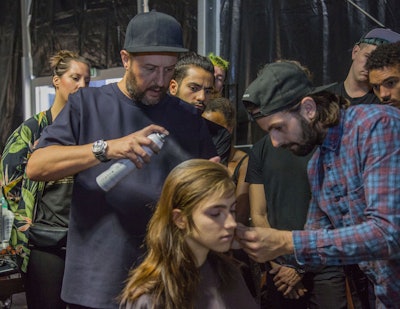 "With Byblos being a classic Italian fashion brand, we still wanted to pay respect to their history," he continues. "We imagined her style would be a classic blow dry, but then later she would have been to the gym and clipped bits of her hair back — so this look was 'post workout,' [with] elements of the hair being beautiful and elements being slightly sweaty. It was about keeping an individuality to the look and not cloning girls, but at the same time keeping a nuance which stayed in tune with the collection. There had to be a lightness to the hair so when the girls walked the hair moved; the key way to make this work was not over use products."
Get the Look:
"To damp hair, I applied UNITE Elevate Mousse to the roots and mid lengths of the hair, leaving out random strands of hair around the hairline," says Nick.
"The hair was then blown out using a UNITE large round brush to create root lift and a slight bend in the hair.  
"Then, taking random sections spraying the hair with UNITE Go 365 hairspray with the light setting, the hair was then slightly waved with a curl stick.  
"Using the fingers, hair was dressed out randomly without over thinking.
"The hair through the sides and top was pinned in a irregular fashion, so half up and half down.  
"Each girl had her own individual style created by promoting her natural hairline using UNITE 7 Seconds Glossing Spray to make the hair look a little bit sweaty in places."